by Jessica on March 20, 2012
1325 Broadway St./Menu
Regardless of what else exists in this parking lot, the strip of stores is undoubtedly referred to by most as "Cosmos." Sure, there's also Doozy Duds, the Hookah House and K's China, but the spicy ranch is the king of this block. But for me, the king's reign ended last week. until last week.
Tucked away in a small shop window, Santiago's tiny space features no seating, a compact menu, and a trash can. Instead of fussing with table service or ambiance, this crew instead focuses their efforts on authentic burritos and breakfast burritos solely to-go. But don't waste your energy searching the menu for avocado, hollandaise sauce or sautéed mushrooms. Instead, bask in the glory of a $2 breakfast burrito.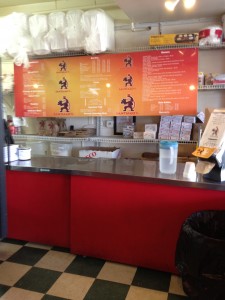 The only options on the breakfast menu are meat or no meat, cheese and no cheese, and one, two or three (for two bucks, my hungry pals couldn't help but stock up). My meatless burrito was piping hot and oozing with eggs, cheese, and incredible green chili (I ordered mine medium). There wasn't much to it, yet it managed to pack tons of flavor into a compact meal, perfect for a sunny Saturday after a night out.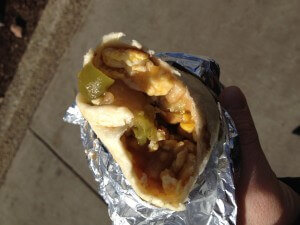 My review of Santiago's is simple, just like their food. No fuss, not snobby prices, just solid and delicious burritos to go.