by Lowell Bleiweiss on May 8, 2011
2845 28th St.





When I usually think of Mexican food, I think of sombreros, nachos, and casa bonita — ish. After coming out to the culinary hotspot that is Boulder, I found myself in search of the "classy" Mexican restaurant, that for the most part had evaded me. You know the kind of restaurant you could take a date to or that you could go to with your parents without feeling like you could have gotten a nicer freebie. Agave Bistro is just that gem.
Some friends and I went out to Agave as a graduation gift to our friend, Megan. When we walked in, we saw this gorgeously decorated, not tacky at all, and definitely no sombreros kind of a place. I still think they should make the middle seating area a dance floor though, I do enjoy a nice salsa dance (that's right ladies, I can bust a move in Mexico).
At one point in the meal, I went to the bathroom. I came back to find that a friend of mine (who shall remain nameless) had ordered me a margarita ($5).. how did she know that was my favorite pool-side drink?! My roommate, Hogan, also had an Arnold Palmer. The margarita was a little on the sweet side for me, but there was enough salt to make me happy.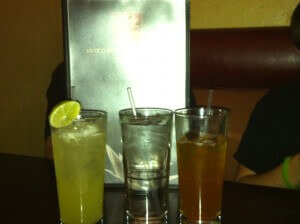 The food was even better than the decor. We started out with the Agave Trio ($14) and the guacamole ($5). The trio came with chips and salsa, queso fundido , and a shrimp ceviche [say-vee-chay.. not suh-veesh(rolls eyes)]. Queso Fundido is a white cheese actually called queso fresco or queso blanco, melted and Agave offers it three ways: plain, with chorizo, or with poblano pepper strips. We got the Poblanos yum. The ceviche is shrimp cured in fresh lime juice, mixed with purple onion, tomato, cilantro and jalapeño, served with tostadas, this dish is delicious and nutritious! The guac was light, fresh, and with just enough heat to bring out the flavors — and how easy on the eyes.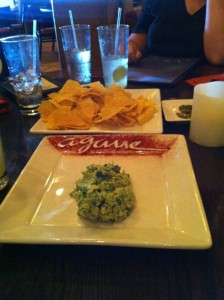 ..and what was left of the Trio when I got back from the bathroom…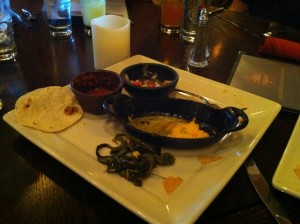 The entrees were fantastic. I hope saying that isn't an understatement. Ladies and Gentlemen, mark my words: This is the best Mexican restaurant I've ever been to, and I review restaurants professionally!
We got the house specialty, the Molcajete a la Mexicana ($17) – Strips of chicken and beef, chorizo, cactus, green onions and cheese in an herbed green chile tomatillo sauce. Luckily, we had seen one come out right before ordering it. It's a huge stone bowl (a molcajete) filled with enough to feed 3. I can see why this treat is a house specialty. A tortilla filled with all of those things, is simply put, grand.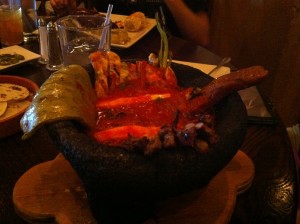 In addition to the Molcajete we got the Tacos de Cameron ($11) – Four shrimp tacos topped with coleslaw, avocado mousse and habanero dressing. I didn't get the luxury of trying one of these beauties, but Megan assured me that they were as good as they looked. I hope the picture does it justice, I would award them Miss Mexico.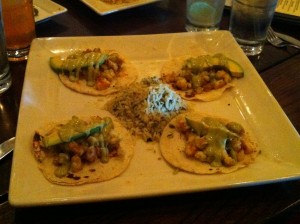 Despite its celebratory nature, we opted out of dessert, but I happen to know that Agave has a mean fried plantain (Platano Macho).
You may have noticed that I have forgotten to mention the service. I haven't, but it definitely wasn't up to par. I've been to Agave a few times and on one night, I noticed they were busy when we sat down, so I gave the order to the host, right away. In the past they've been very accommodating, prompt, and friendly. I'll allow them the night off. This was our waiter making the guac tableside.