by Zoey Ripple on May 16, 2011
1651 Broadway St. (Corner of Broadway and Arapahoe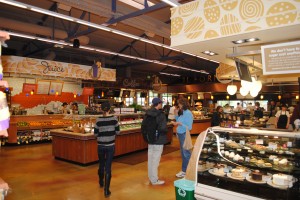 Students and families alike in Boulder were upset when the conveniently located Whole Foods closed on the corner of Broadway and Arapahoe. Fortunately, Alfala's, an exciting and slightly less expensive option, opened in a very Boulder appropriate fashion on Earth day, Friday April 22nd! Alfalfa's is not your King Soopers or Safeway in price range, but it carries Whole Foods worthy food for SLIGHTLY reduced prices. Although the groceries are pricier, their prepared food department is extremely extensive and is much friendlier to students' budgets.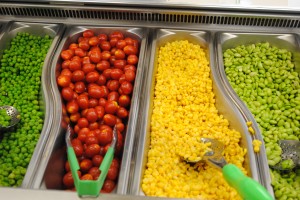 A coffee and tea station brews  Ozo's Coffee, which also happens to be my favorite coffee shop in Boulder. They have a colorful juice bar featuring all organic smoothies and fresh squeezed juices (the orange juice was tart and refreshing…PERFECTION!). In addition, a hot food section, Il Fornio, features wood and brick oven fired pizzas, burgers, and various sandwiches. After it was highly recommended by staff, I tried the Croque Monsieur, a fantastic ham sandwich with creamy béchamel sauce, and melted gruyere on a crusty Italian bread ($7.99). The list continues on with a bakery, and even a sushi station run by the staff of the popular Boulder restaurant, Sushi Zanmai! In addition to my sandwich, I got a light fresh salad from the salad bar and a small but tasty cup of the Kale and Sweet Potato Soup from the soup bar that has 10 other soup options! The staff was so friendly, and let me sample some soups to make my decision easier.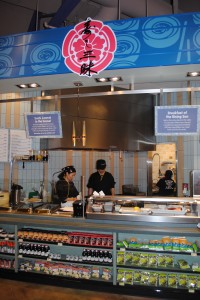 As students loving free samples, we roamed the grocery store gravitating towards the many free samples, including, pancetta wrapped cantaloupe, and brownies fresh from the bakery. Another fun feature, which is unique to Alfalfa's, is their cooking demonstration station, which would provide a great place to learn some new recipes and techniques for those of you who rely on ramen and frozen pizza! Here we sampled a stir-fry zucchini with orange sauce and could even pick up a recipe.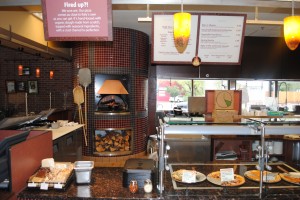 Alfalfa's elegant yet comfortable and homey design makes their Café seating area (with 75 to 80 seats AND wifi) a perfect study area. Now that it's summer, Alfalfa's is also the perfect convenient stop for grabbing ready-made food for a picnic at the creek! Also, you all we be interested to know, it happens to be the first grocery store with a wine, beer, and spirits department. Finally Boulder!