by Jessica on January 25, 2012
1900 13th St.





My quest to try every food stand at the Farmers' Market prevails. Though I love Mexican food, for some reason the tamales stand is never where I head to first. Possibly it was the fear of the unknown (I was previously a tamale virgin), but I now feel like a fool for waiting this long.
The tamale tent is one of those places with a loyal and loving pool of customers. As I waited for my lunch to be prepared, I watched the other patrons interact with the staff. Each customer had memorized his or her order and the staff was ready to make it. Customer service: always a plus.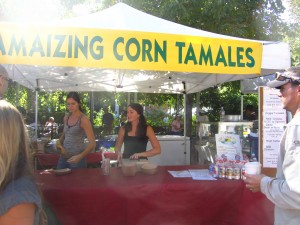 Upon recommendation from my fellow foodies and the tent's staff, I ordered the cheese tamale (I know, I was also surprised at this recommendation). However, I am a big believer that simple is better sometimes with food. When offered the option of green chili sauce (mild or hot) and black bean salsa for seventy-five cents, I said absolutely.
I had no idea what to expect upon digging into this eggroll-like cuisine. Was there a corn husk to peel? Would it be too spicy? Was it going to be weird?
To my surprise, the tamale was filled with not only cheese, but also corn and tons of other flavors that I could not even name. It was smooth but textured and the mild green chili sauce added awesome extra flavor and is an absolute must!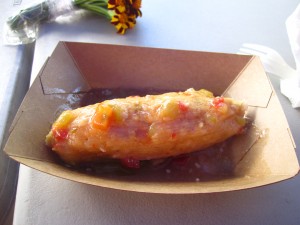 My only complaint was I wish I ordered two. Though it was filling, I didn't want it to end. This might take the cake for number one spot on my Farmer's Market food chain.