by Jessica on April 22, 2012
1221 Spruce St./Menu





Among all of Boulder's fabulous  and diverse restaurants, fine Asian cuisine is something I would never expect from this health-crazy town in the land-locked state of Colorado. Organic? No problem. Fish? Sometimes a problem. However, Amu proved me wrong one Sunday night, teaching me that Boulder does, in fact, contain this gem of an Asian restaurant, which aimed to blend traditional Asian cuisine with creative fusion dishes. (Note: if you are looking for sushi, head to their sister restaurant next door, Sushi Zanmai)
It is my belief that Amu's complex menu, mostly in Japanese, truly aims to confuse diners. But lucky for us, our friendly and knowledgeable waitress behind the bar was ready to help us, after enjoying some brief entertainment from our confusion. We decided to order tapas style: sharing everything, and ordering one-by-one. While we waited, we enjoyed a complimentary starter of the day described as "Japanese pumpkin." I wish I had a better explanation. It was the perfect combination of sweet and salty, soft and firm, and unlike anything else I had ever tasted.
After asking the couple sitting next to us at the bar, the waitress, and the bartender what their favorites were, the Sea Urchin Bruschetta special unanimously won every vote. I almost always order what is recommended, especially if it was recommended by multiple parties, but something about this dish freaked me out, I must admit. But after some psychological preparation, my friend convinced me that we needed it,  and it was in front of us in no time. As our neighbor put it, "It tastes like the ocean, and you just can't describe it." To me, it was creamy, salty, rich and really unique. The warm bread was a great compliment and once I was able to move past the fact that it was orange and mushy, it really was delicious.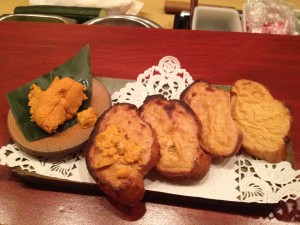 Next up was grilled calamari, always a favorite. I thought the presentation of this dish was beautiful and I probably could have drank the sauce alone (though my tongue might have been on fire). But for the calamari, as delicious as it was, it was a bit chewy, and perhaps could have been skipped.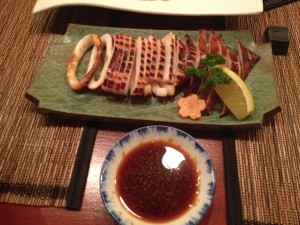 Black cod to me is like red velvet cake to others: I am thrilled when I find it on a menu, and I simply can never resist this succulent treat. One thing I loved about Amu is that I wasn't limited to tasting only the black cod, as I would be at other restaurants, because they serve their fish as small portions. And with black cod, I often find the richness to be satisfying after just a few bites. Theirs was cooked perfectly and could melt in your mouth.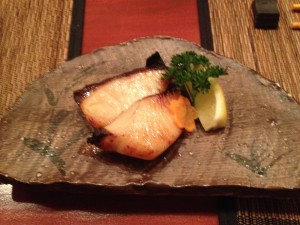 Always save the best for last! Tonight, it was the jalapeño tuna with a light soy sauce. The delicately sliced and fiercely fresh fish melted in my mouth, but not before I had time to enjoy all the flavors. This dish was truly excellent, as was the beautiful and colorful presentation.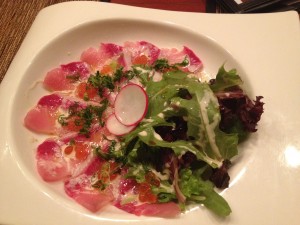 Amu is a wonderful place for both getting away from the bustle of the Pearl St. Mall (while still being close by) and treating your taste buds to something alternative. While the cuisine was eclectic, the laid back feel at the sake bar was absolutely "Boulder." Tack this on to a foodie bar crawl, come for lunch, or take yourself out to a leisurely and luxurious dinner, this top-notch spot is not to be missed.