by Emily Kane on June 7, 2011
1221 Spruce St.




On my lunch break I was searching for somewhere cozy to grab a quick bite to eat. Nestled against Sushi Zanmai, Amu is a traditional Japanese Sake bar and restaurant. Greeted in Japanese by the hostess, and the entirely Japanese wait staff, I was instructed to remove my shoes before taking my seat at the bar. (Note : Amu does not serve sushi, only sashimi and various other traditional Japanese entrees.)
To begin I was given a small bowl of pickled and spiced cucumber and asparagus. The flavors were sharp and the vegetables crisp, a nice way to cleanse the palate and prepare for the meal.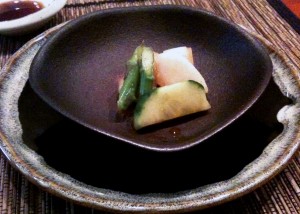 I began with the Kani Cream Karokke, deep-fried crab croquettes. They were lightly breaded and stuffed with bits of crab and a succulent cream sauce. The croquettes were accompanied with a side of house-spiced tartar sauce and a small bed of lettuce. The flavors complemented each other nicely and although the croquettes were deep-fried, they were not overwhelmingly rich.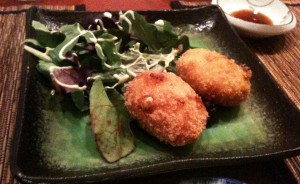 I'm a sucker for salmon sashimi and ordered it next. It was served artfully, in a deep porcelain bowl on top of a bed of seaweed and accented with herbs. The fish was very fresh and had a clean flavor and buttery texture. I was given a generous amount of salmon steaks and finished my meal satisfyingly full.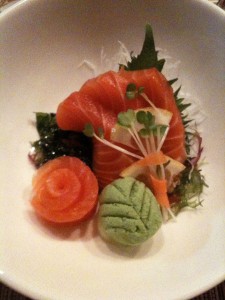 Although a bit pricy, Amu is a wonderfully traditional restaurant with an interesting menu and a very friendly wait staff. I would highly suggest it for a more intimate dining experience.