by Emily Kane on July 2, 2011
1200 Yarmouth Avenue





There's something about summer air that just screams to be accompanied by Italian food. Recently, my roommate discovered Bacco Mozzarella Bar in far North Boulder and fell in love. After she dragged me out there I understood why.
The restaurant is beautiful, clean, and spacious with a full service bar, patio, and plenty of indoor seating. As Bacco is a self-proclaimed mozzarella bar, we had to try some as our appetizer. With four different cheese choices we opted for the Bufala mozzarella, a high grade and very creamy mozzarella. It was accompanied by prosciutto, pesto, and a lightly sautéed mix of peppers and tomatoes. The three large balls of mozzarella and various condiments allowed for a very delicious build-it-yourself hors d'oeuvre. I was even more impressed, and pleasantly so, by the size of the dish. Between the two of us we struggled to keep enough room for the rest of our meal!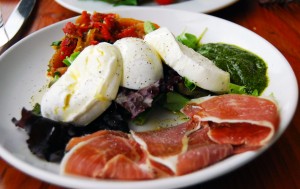 As for our main course we chose the lunch special : your choice of over seven different raviolis (from cheese to lobster), and five different sauces and a side salad. My friend paired her spinach and ricotta ravioli with a traditional tomato basil sauce. While very simple, it was nicely prepared and the tomato sauce was fresh and light – perfect for a summer afternoon.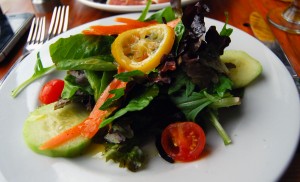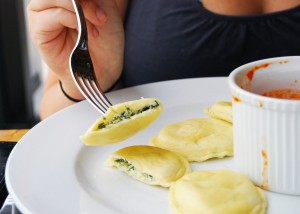 I opted for the wild mushroom ravioli with sage butter sauce. It arrived in a deep bowl swimming in a shallow puddle of sauce. The ravioli were tender and stuffed with whole pieces of tiny mushrooms. Although it was butter sauce, the sage flavors kept it from becoming too heavy (and there was just enough to dunk some leftover bread into it!). I absolutely loved this dish, and the sauce.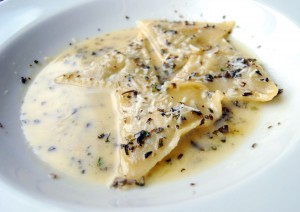 Although the portions appear small, they are appropriately sized when paired with an appetizer. I really appreciated the attention to detail and the flavors that were consciously added to each dish. The simplicity allowed us to savor the flavors, and the meal.
After my first visit to Bacco, I would highly suggest it to Italian food lovers. While a little more upscale for a casual dinner, Bacco is a fantastic for a first date (or 100th) or even a nice family dinner. While its location is a little further removed from Boulder's main business district, it is most definitely worth the trip!