by Jessica on August 26, 2011
2319 Arapahoe Ave.




While cruising around Boulder upon my return after my eight month absence while studying abroad, I have noticed several "new" restaurants that have popped up around town. In an effort to shorten this list of unknown eateries, I ventured out to Backcountry Pizza for a lazy Friday lunch.
Upon walking into the establishment, which is fitted out in a beautiful wooden interior, it is hard not to notice the bar, which spans an entire wall and is characterized by an impressive display of beer. Backcountry Pizza boasts over fifty beers in tap, ranging from beers brewed locally to those from Belgium and New Zealand. It is impossible to make a selection without soliciting the help of a waitress of bartender, all of whom are well versed on the inventory and happy to help their customers.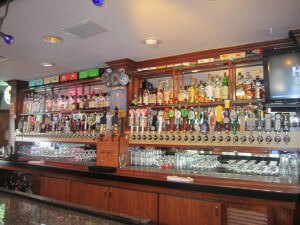 For an appetizer, we decided to sample the Spinach and Artichoke Dip. The massive dish came with toasted slices of bread and an array of raw veggies. The dip, unlike most conventional spinach and artichoke dips, was made up of chunks of artichoke and spinach, as opposed to a dip with more cream and cheese than spinach or artichokes. It was warm, hearty, and a great thing to share with a group.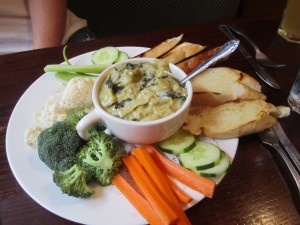 Now onto the pizza. The menu consisted of about ten specialty pies, or diners could build their own starting with a traditional, gluten-free or whole wheat crust, a selection of about five sauces, and about thirty toppings. We decided to sample two specialty pies.
First, we ordered the Garden Fresh on a whole wheat crust, which came piled high with tomatoes, spinach, onions, black olives and red and green peppers. The crust was soft and had a great, whole wheat and honey flavor. Though I wished it was a little more crispy, it is likely that it was unable to reach the desired crispiness because it was a small pie and all the toppings weighed it down. The toppings were literally spilling off the pizza, a nice change from most veggie pizzas that have a mere one pepper per slice.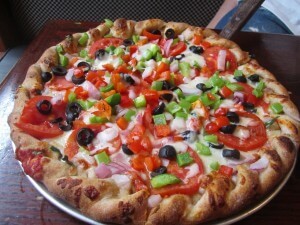 Next we tried the Nediterranean, again on whole wheat, which came with pesto, red sauce, pine nuts, garlic, roasted red peppers, artichokes, kalamata olives, and feta cheese. Though a little salty for my taste, the mix of flavors was great. I especially liked the balance of the pesto with the red sauce, which was awesome on the whole wheat crust. If I go back again with a bunch of friends, I would do one fancy, specialty pie and one plain cheese to compare against the basics.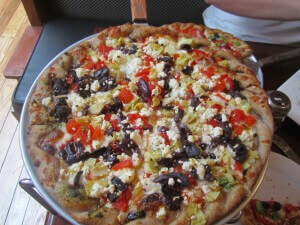 In an effort to feel a little more healthy, we also ordered the Grilled Caesar Salad. On the menu, the twist on a caesar sounded unique, featuring grilled romaine heart, tomatoes, kalamata olives, croutons and parmesan cheese, but the plate placed on our table was much to our surprise. The salad came dressed with balsamic rather than caesar, and the romaine was more wilted rather than grilled. It was quite a creative take on an otherwise consistent dish, and I give them props for adding a twist on the menu. Nevertheless, it was still delicious, but perhaps next time I would order a different salad.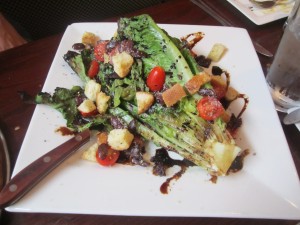 Overall, Backcountry Pizza and Tap House is a great choice for a casual pizza and beer. Though it is removed from The Hill or Downtown area so it may require driving for some people, it is a refreshing change of pace and a guaranteed different crowd. Though the dining room was quite sparse during lunch time, our fellow diners appeared to be Boulderites, not CU students. Lunch, dinner or happy hour, the spot is sure to deliver consistent and quality food and drinks.