by Andrew Woodman on March 18, 2011
25252 Arapahoe Avenue
Boulder, Colorado 80302
Berry Best's menu/info

After pulling an all-nighter that surprisingly was not induced by cramming for tests—but was instead brought upon me by a mouse's intrusion in my bedroom—I guess I was lucky enough to finish off my week by eating at another quality eatery.  Not only this, but my Spring break 2011 is officially starting after this post.  Woo hoo! (This will commence a 1.5 week hiatus from any blogging, also).
You would never really expect a place whose name suggests a specialization in smoothies to have the ability to satisfy the desire for a hearty meal, but Berry Best successfully filled the hungriest state my stomach has felt in a while.
Berry Best really only does specialize in smoothies, however the owner David must also specialize in economic fundamentals.  Not only does he delegate like a genius, but he also gives everyone their own comparative advantage while supporting a variety of local businesses all at the same time.  He makes the smoothies, but then also serves food made by Boulder locals: he serves various types of chili made by his friend over at Global Chili (more than one vegetarian option, too), and Amazing Corn Tamales supplies just what their name promises.  Thus, allowing the chili maker to make the best chili in town, and the tamale maker to do the same (but with tamales, duh). Hey, the theories I learn in class are actually practical in some ways, awesome!  Oh yeah, and they also have a wide variety of gluten free products, for Boulder's celiac friends.
Obviously I got a smoothie…"Pineapple Passion."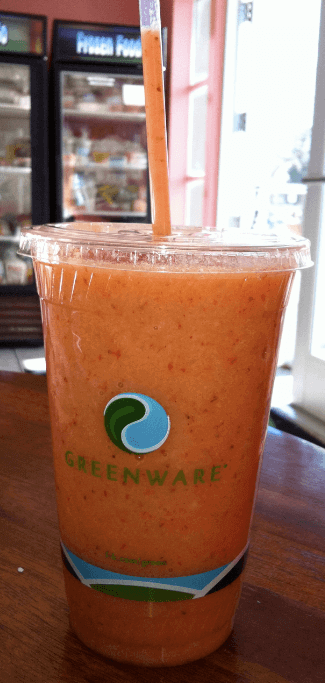 It was pineapple + strawberry & banana.  The name implies that the combo of strawberry-banana is the equivalent of "passion," which is alright with me (I definitely believe it to be true).  Also, the menu has these little sayings for each smoothie that helps describe them, which is really helpful if you want to know what all these awesome combinations taste like in a quick catch phrase.  "Sweet and tart" describes the Pineapple Passion, and it was the obvious usage of fresh fruit that gave made that description so accurate.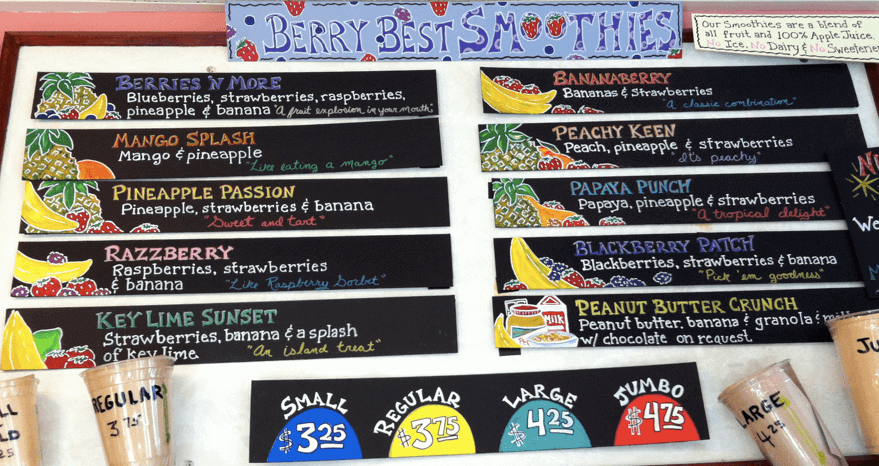 The tamales [$3 each] are—like usual—wrapped in dried corn husks.  Not like usual, it looked like a knot artisan of fine craft had tied off the ends with even smaller pieces of dried corn husk, which not only help make these tamales deliciously moist, but also make you feel like you are receiving a present to open.  I tried out the spinach, pork and chicken tamales, and while each one obviously had its own identity, they were all riddled with bits of corn that made the outer part of the tamale a treasure filled corn cake that was worthy of eating all by itself.  Although I was turned off by the menu's plain tamale at first, I might try I might try it next time.  Not surprisingly, I discovered that the Amazing Corn Tamales company has been in business here in Boulder for 25 years…they are true masters and perfecters of the tamale business, and it is freakin' obvious.
On the side I got some of Global Chili's All American beef chili [add to tamales for $1.25] and some rice [add for $.50].  Raw onions awaited their chili bath, too, but several other chili toppings were available also.  I would have ordered more chili if I had realized I was only spending such a small amount to add the side.  Still, the measly amount was more than satisfying, plus considering how much I paid it was a pretty fair amount after tasting the impeccable home-made quality.  I did encounter a few hard pieces of rice that I could pretty easily place my finger on a refrigerator/microwave oven combo as the culprit, however that is my only complaint on the quality of food served at Berry Best.
On top of representing local Boulder food specialists and making bomb smoothies, Berry Best is very eco-conscious and actively composts and recycles everything they use, claiming to produce no waste.  So if you want to save the world one meal at a time, and you want those meals to be good, but you also want to support multiple local businesses all at once… add this to your agenda, then call yourself a philanthropist.  Then thank Berry Best for organizing it all by going backgetting a smoothie, because they truly are a "very best" of Boulder.