by Jessica on January 29, 2012
1247 Pearl St./Menu



Undoubtedly the most prime real estate and outdoor seating area on the main drag of Pearl St., Boulder Cafe regularly draws the meandering freshman, chronically happy tourists, and dehydrated shoppers. But for the true foodie, this eatery is somewhat disappointing in the service, quality of ingredients, and creativity a la carte.
The aspect of this cafe that does perhaps deserve the frequent attention is their bizarre, but wonderful, happy hour and specials. They advertise Bloodys and Mimosas for half price for breakfast and brunch every day, and half price appetizers 3-close daily. I'd assume most follow a similar thought process as me- why not just chop the price in half? Regardless, customers absolutely get the better end of this bargain, and can be seen enjoying the specials on the patio and in cozy indoor booths year round.
The Boulder Cafe definitely speaks to comfort food (where else in the area serves fondue?). So in an effort to fit in (or perhaps just an excuse to indulge…) we started our leisurely lunch with some Spinach Artichoke Dip, served alongside some fresh veggies and bread. Normally I'd say this is an easy dish to fluff up- serve the dip in a fancy dish, surround it by bread or raw vegetables, or even put the whole load on a bed of lettuce. However, the presentation delivered to our table was rather disappointing. Though it did come with the normal fixin's, the plate was sparse. As for the grub, the dip was good, but nothing special.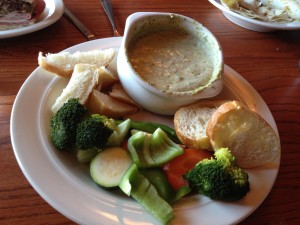 My lunch date is a complete Mexican food addict. She sees anything containing beans or with a Mexican twist, and she's all over it. The White Chicken Chili, topped with monterey jack cheese and a tortilla, was calling her name. This warm and savory stew was definitely the best dish to land on our table that afternoon. However, that very well could have been thanks to the heaping layer of cheese and generous distribution of meat, not because of flavor or anything out of the ordinary. Nevertheless, it was pretty good.
As for my wrap, I wish I could say that my photo didn't do it justice. In fact, this is probably the best photo I captured after a small photo shoot of a sandwich. Problem #1: it was served in tip foil…Problem #2: no garnish, no sides, nada. Problem #3: it was just plain bland. I guess it would be fair to explain that the wrap was a Turkey and Feta Wrap with romaine, tomato, calamata olive and a balsamic drizzle. I know, the description caught my attention too. However when words look more appetizing than food, I'd call it a bust.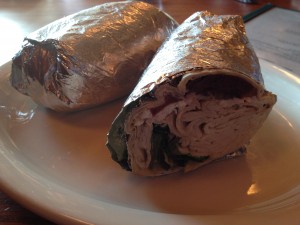 Boulder Cafe passes my (slightly harsh) test because of one thing: the location. On a sunny day, nothing beats a day of people camped out on their luxurious patio, avec mimosas, of course! But for the food, don't come expecting to be wowed, or even satisfied.