by Lowell Bleiweiss on May 24, 2011
1247 Pearl St.




I was just watching an episode of "Happy Endings," a show that's like a young even funnier Seinfeld. Watch it. And the group of friends bailed early on breakfast with one friend to go to breakfast with another friend, and it got me thinking.. Why not have two breakfasts? Well.. I don't wake up for breakfast now that it's summer, so why not two lunches? I'm a hungry man, damnit!
So after our lunch at Crepes a la Carte, we headed over to Boulder Cafe for this great-sounding happy hour menu. Luckily the two are right down the street from each other on Pearl.
After the quant elegance of Crepes a la Carte, Boulder Cafe seemed huge, with outdoor seating extending the better part of a block, and an indoor area that I bet seats 300. Despite its size it was very nicely decorated with nothing too great, but nothing bad.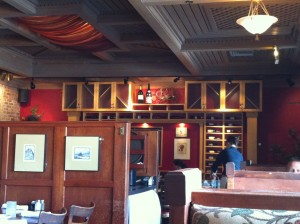 The happy hour menu extends from 3pm-Close, and includes a page of appetizers that could easily make up a dinner. Happy hour means everything on that page is half off! So naturally, why not get 3 apps?
They had a few sliders to choose from so I told the waitress to bring us her favorite. She brought out a pulled pork slider with a chipotle-rhubarb BBQ sauce. The pulled pork slider part of it was just ok. Kinda soggy for my tastes. But the chipotle-rhubarb BBQ sauce is where this dish shines — this is a pattern you'll notice here, and all for $2.50.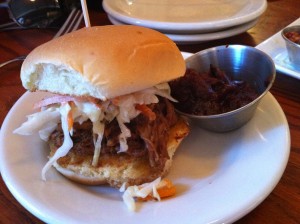 Next, we got the fried calamari with a grilled pineapple-chile marmalade. Yeah, it does sound like they put more effort into their sauces than the rest of their dishes, right? The calamari was crunchy, and perfectly cooked, although it could have used more seasoning. The sauce, like the BBQ sauce, was the highlight of the dish, and almost the sole reason I ordered it. It was a little spicy for those who don't like it hot, but the flavor was wonderful. The calamari was $5.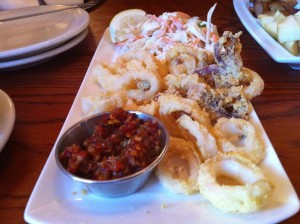 Lastly we got a cheddar and Colorado ale fondue. Not the best thing we got at Boulder Cafe that day, though we did find ourselves mopping up the cheese with the stale bread they served. The accompanying sides for dipping were pretty plain-jane (no offense jane) — veggies, seemingly store-bought jalapeño chicken sausage,  apples, and potatoes. This was a small size for $7.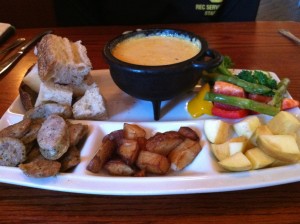 Overall Boulder Cafe didn't disappoint, especially at these prices. I would go back, but it wouldn't be my go-to date place.