by Jessica on November 14, 2011
13th Street Between Arapahoe and Canyon



 (maybe 




 simply because it is at the farmer's market)
Some people have seasonal depression driven by the weather; mine is driven by the farmer's market. So in the last few weeks before my Boulder happy-spot closes for winter, I have been soaking up all I can get (Note: Saturday, November 19th is the last day until April for the Boulder location!).
Though I did have the chance to sample most of my must-haves throughout the fall, there were a few stands I had been saving up for last. For example, "Falafels and Gyros." This stand focuses their culinary work on tasty wraps or salad plates like falafel, chicken and lamb schwarmas and gyros. Yet perhaps in an effort to inspire creativity and offer something different to their fans, someone behind the scenes dreamed up the Greek Breakfast Wrap, a pita stuffed with scrambled eggs, feta cheese, spinach, tomatoes, potatoes and yogurt sauce. My thought process: it was breakfast time, they specialized in Greek food, so it must be good.
It was definitely something different. Though I knew exactly what I was getting myself into, I think I was a little taken back by the drastic breakfast/lunch combo that was mixed up in this wrap. Specifically, the yogurt sauce and feta with hot sauce and eggs. I am absolutely glad I tried the unique offering, but am not confident that I would order it again. Compared to some other culinary masterpieces that I have enjoyed at the farmer's market, I cannot say this was the best.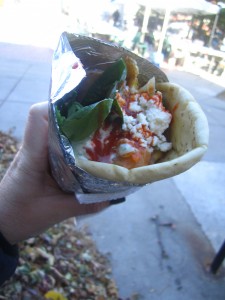 Foodies, students, chefs and wanderers: make sure to stop by the last session of the Boulder farmer's market this Saturday if you will still be in town! Perhaps you, too, will choose to stock up on some non-perishable winter necessities; my roommates now kindly refer to me as a squirrel.