by Emily Kane on July 28, 2011
1175 Walnut Street




The Boulder Organic Pizzeria, or the BOP as it is more fondly called, is a locally owned Italian pizzeria located on the corner of Broadway and Walnut. I have walked by this restaurant countless times on my way to Pearl Street but had yet to check it out. When I walked inside I was pleasantly surprised by the high ceilings and open kitchen.
While its name suggests it is just a pizzeria, the BOP has an extensive menu with a variety of Italian appetizers and entrees. I have always loved calamari so when I noticed it on the menu I had to give it a try. A decently sized plate arrived with a hearty cup of cocktail sauce. The calamari itself was a little too greasy for my taste and could have been fried for a bit longer, but the horseradish infused cocktail sauce and lemon juice lent a hand and saved the dish. We also ordered the focaccia, an Italian wheat bread, to start. It was served lightly toasted and garnished with rosemary and basil. I really enjoyed the bread, especially when dunked in balsamic vinegar!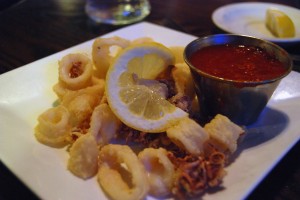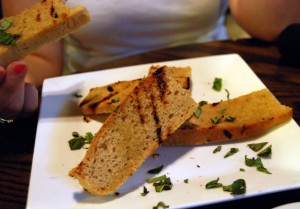 The BOP showcases a "Mezza Luna" pizza, a half calzone half pizza concoction. I had never heard of such a thing and was excited to give it a try. We ordered the Napoletena.  The calzone side was served stuffed with ricotta and finochiona, a similar meat to pepperoni, and the pizza side was served as a margherita pizza. The creamy ricotta was bursting out of the calzone and was fantastic when dipped in the red sauce. The margherita pizza was also very good. With plenty of fresh tomatoes and basil, this pizza did not lack in flavor.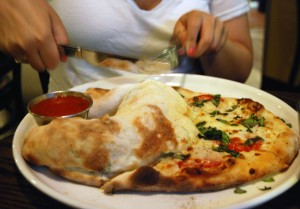 I ordered the Devil's Thumb, described as a spicy margherita pizza served with finochiona, roasted peppers, and spice. Although you cannot see in the photo, beneath the arugula are plenty of spicy finochiona pieces and a delicious spicy, red sauce. The spices were not overwhelming and perfectly complimented the savory finochiona. I absolutely loved this pizza.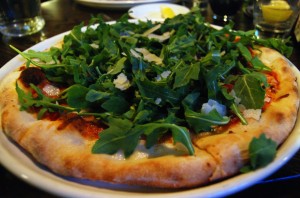 Both pizzas were heartily sized and made for perfect leftovers the next day! The cozy atmosphere and fantastic pizza make the BOP a great place to eat. Additionally, the BOP has an acclaimed gluten free pizza crust which can be substituted on every pizza at no additional cost. The BOP has recently been added to HungryBuffs's online ordering. So the next time you're craving pizza, and are too comfy to leave the couch, treat yourself and opt to order the BOP!