by Jessica on February 4, 2012
1101 Walnut St./Menu





I would be willing to argue that Brasserie Ten Ten is stereotyped by the vast majority of the student and Boulderite population as a snobby, perhaps overpriced, fancy, French establishment. During happy hour, the only description I bought into was French. Otherwise, the laid back yet trendy vibe, diverse and delicious menu, all at stellar prices, makes for a very happy hour (or two).
The happy hour menu boasts many of the best items from their regular dinner menu and a variety of cocktails at bargain prices. From olives, to oysters, to sliders, the menu is diverse enough without being overwhelming. The first thing that spoke to me was the mussels. Lucky for me, my fellow seafood-loving snackers agreed to share all three: Pistou, Basque, and A la Mariniere, from top to bottom.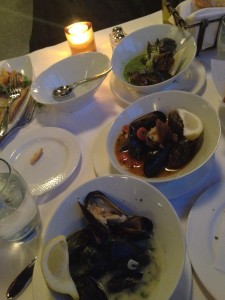 Typically, I have enjoyed mussels in some variation of a white wine and garlic sauce. Leave it to the French to create a more flavorful, but heavy, alternative. Of the three, my favorite was defintely the "A La Mariniere," with cream, butter and herbs (no wonder they were so tasty), yet the pesto was a close second (possibly simply because there were huge chunks of garlic). I was impressed by the flavorful sauces, quality of the seafood, and offering of extra French bread to mop up the juice.
No surprise here that the fries were just as fabulous, largely in part thanks to the truffle aioli. You could throw truffle aioli on a Mcdonald's burger and I'd probably be wowed. Yet these fries were thin but not flimsy, crispy and overflowing out of the bowl. Though I can't remember the last time I ate bad French fries, luckily these spuds belong no where near that list.
The olive tapenade could be the perfect salty snack for the observant diner with FOMO (Fear of Missing Out). Though obviously I could have eaten the dip with a spoon, the fluffy baguette was the perfect accompaniment to this fresh and flavorful olive spread.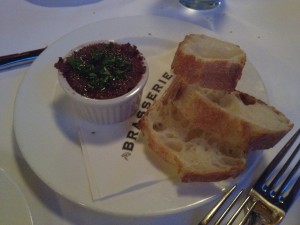 Cauliflower, as strange is it may be, is one dish that I can never pass up. When my handsome waiter suggested the Choux Fleur, milk roasted cauliflower with lemon-almond brown butter and shaved compte, my only thought was YUM. What an inventive spin on the crowd-pleasing roasted cauliflower! The lemon and almond flavors were infused into the vegetable, packing extra flavor into the perfectly-roasted florets. As many times as I have sampled some variation of roasted cauliflower, this dish was impressively innovative without sacrificing flavor for creativity.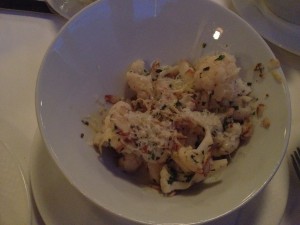 Lastly, you can't go wrong with olives. Again, leave it to Brasserie Ten Ten to put a creative spin on a traditional item. The genius chefs served this snack warm, alongside roasted garlic, with rosemary and lemon. The small portion, jammed with a variety of flavors, was a great compliment to the rest of the meal.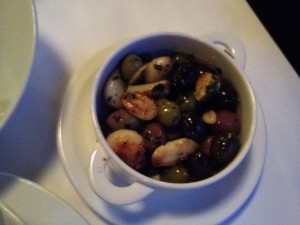 From the white marble bar to the well-crafted menu, entrez, s'il-vous-plait! After giving five stars to my new favorite upscale establishment, I have shamefully learned not to judge a restaurant by its appearance (or stereotype). You can't judge unless you've tried it! And for Brasserie, I've tried it, and my judgement is excellent.