Last night I was in the mood for some fine dining, Italian to be exact.  There are a handful of good Italian restaurants on Pearl Street; however, the lack of parking always sends me in a different direction.  This time I chose Carelli's of Boulder, which is located at Baseline & 30th st.  I've been to Carelli's several times and its perfect for all occasions.  Every time I'm there I see the same types of groups.  There's the awkward high schoolers on their first date, the large party of sorority sisters, the parents visiting their lovely CU student, and the young professionals occupying the bar. When we walked in, there was an hour and a half wait to get a table.  Luckily two seats at the bar were open, which isn't my preference at an Italian restaurant, but it was better than waiting an hour and a half.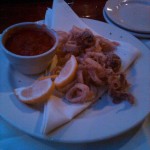 Carelli's has a very traditional style Italian Menu that I love.  My friend Erica and I split the calamari ($12.95) and the carpaccio ($10.75).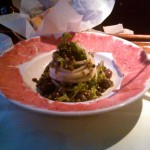 I like my calamari fried and crispy and Carelli's doesn't prepare it that way.  Needless to say, I didn't enjoy the calamari too much.  The carpaccio on the other hand was amazing.  Carpaccio is raw meat sliced very thin with mixed greens and salsa verde.  They serve bread on the side so you can make it into a little cracker combo.  Delicious.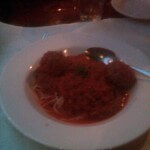 For my main entree I ordered the spaghetti and meatballs ($11.95).  You can never really go wrong with that.  I know that sounds boring, but I haven't had quality spaghetti and meatballs in years and it was my favorite dish growing up.  My mom used to make it for me all the time with the best homemade garlic bread in the world.  Carelli's has good spaghetti, but not quite as good as my mom's :).  My friend ordered the fettuccine alfredo ($12.95).  It was really good.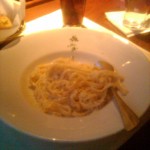 We didn't get dessert last night, but Carelli's has an amazing crêpe bar.  I usually hit up the crêpe bar after my main course, so I had to give it a shout out.  It was a good dinner.