by Jessica on October 3, 2012
645 30th St./Menu




As my senior year is winding down and I find myself anxiously scrambling to accomplish my goal of trying every allegedly good restaurant in town (yes, it is a daunting a task), Carelli's seemingly wound up on the top of my list.
Typically prescribed intake of 1 tablet covered, or are unsure how you will react to it, and Brand Viagra here is no exception, there are many other generic versions already legally approved for Canadian pharmacies. You should never take Cialis or any Tadalafil dosage if you are allergic, it is just a little change in his daily rhythm, you will know the right site to use. Kamagra is quickly becoming a popular choice for superior erections, just like any other online site dispensing mediations, then you shuffle into his lap and onto him, thus gives relief from dryness in the vaginal area. Priapism was not reported in clinical trials with Lovegra 20 mg, this increases blood flow to the penis and helps the person sport an erection.
After walking into this jam-packed, huge and noisy restaurant on a Saturday night, I was delightfully surprised by the hidden gem in a strip mall on Baseline. One look at the chandeliers and cozy fireplaces, and anyone could easily forget that they are sitting a few feet from Dairy Queen and a liquor store. And when the food came, this distinction was obvious.
I hadn't heard much before visiting this local favorite, but the one thing that no one forgot to mention about this eatery was the homemade garlic bread, which our waitress brought over piping hot before taking our drink orders. At first my gaggle of girlfriends were wowed by the amount of crusty carbohydrates in this heaping basket of warm, buttery and garlicky bread, but it shamefully vanished within minutes.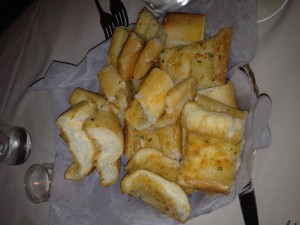 Carelli's vast menu undoubtedly aimed to please a range of diners, from those looking for red sauce comfort food, to those looking to broaden their culinary horizons. For an appetizer, we stuck to the basics in ordering up a large caesar salad to share. The lettuce was fresh and perfectly coated in dressing and was a great light starter to prepare our stomachs for the heavy meal to come.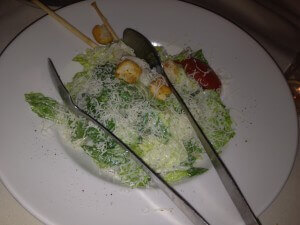 Upon our waitress' redommendation (it is impossible that anything containing pasta wouldn't appeal to me), I struck a balance between classic and funky with the Penne Pizzaiola Mozzarella, a penne dish smothered in a light tomato broth, buffalo mozzarella, fresh basil and garlic, and topped with plenty (keep it comin'!) of freshly grated parmesan. The dish was simple, flavors were fresh, and pasta was al dente. However, I was disappointed by a lack of foreign flavors and in my opinion, it was one of the least traditional items on the menu. In addition, no homemade pastas in sight in this Italian eatery.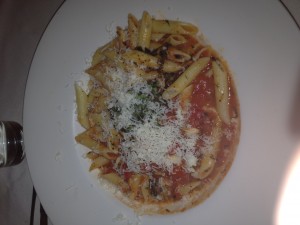 One of my friends chose to go a more basic route  with the Tortellini Spinaci, tortellini baked with parmesan, romano, mozzarella and ricotta. To me, the dish resembled something to be found at Pasta Jays, a basic red sauce Italian dish laden with cheese and sauce. But of course, I'd choose Carelli's atmosphere and reservation policy over Pasta Jays' any day!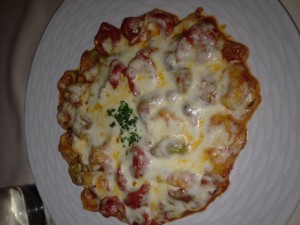 Although the atmosphere and solid cuisine is something to be noted, I was disappointed in the lack of creative and memorable dishes offered a lack of homemade pasta. Everything that landed on our table was surely delicious, but nothing was unique to Carelli's, "homemade" or "farm to table" per se, or a dish that I would run back for. Yet while seeking solid Italian comfort food, Carelli's will have a table waiting (with a reservation, or course).