by Jessica on September 4, 2011
950 Pearl St.




In search of the most happening place in Boulder on a Monday night, our one requirement being great drinks, my girlfriends and I selected Centro for a friends 21st birthday dinner. Though we did not know this before choosing to dine there, Centro features happy hour all day and night on Mondays and it was probably one of the best deals in town. If the delicious food, bargain happy hour and awesome patio and bar weren't enough to ensure our return, our cute waiter absolutely was.
My favorite part about Centro is the killer outdoor seating area and trendy ambiance in the indoor dining room and bar. We went for dinner, but it is a great spot for a quick margarita at the bar or appetizer outside. Better yet, go for happy hour everyday from 3-5:30 or all day Mondays.
We started off with a round of margaritas in honor of Lindsey's birthday. For $4, it would be hard to find anything to complain about, but luckily Centro's marg merited nothing to my disappointment. I have become a recent tequila lover and margarita connoisseur and there is nothing worse than a too-sugary drink that makes you full before your food even comes. This one was the perfect balance and instead of making me full, it left my craving my delicious meal to come.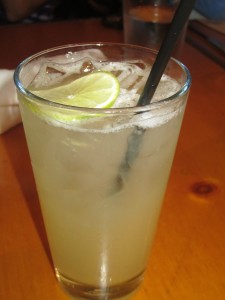 The great thing about happy hour is that it enables you to try several different dishes because Centro's happy hour menu featured tapas-sized plates. To soak up the tequila, we ordered two of the three options for freshly-made salsas and chips. First was their mild version of chunky tomato and jalapeno. This one was my favorite because the chunky tomatoes tasted fresh and full of flavor with a little kick.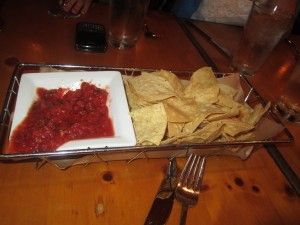 To my disapproval, my friends also insisted on ordering the medium tomatillo and chile de arbol green salsa. Though I found it to be soupy and spicy, but lacking flavor, my tomatillo-loving amigos thought it was out of this world. It seems like the thing to do is order two or three salsas to try; the menu also featured a hot haberno and apricot salsa.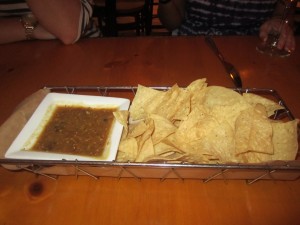 Because each item was a small plate, we each decided to order a few different dishes to try. I selected the chicken thigh enchilada, one shrimp soft taco, and seared greens in an effort to feel a little more healthy.
First out was the shredded chicken thigh enchilada, which came smothered in a roasted red pepper and goat cheese spicy sauce with a side of freshly chopped tomatoes. Though I love enchiladas, especially while drinking, sometimes they come smothered in such a rich cheese sauce that I feel more full from the sauce than from the filling itself. This sauce was light but hearty and flavorful, and the fresh tomatoes were the perfect compliment to cool down the spice. My only complaint was that the chicken inside was a little dry.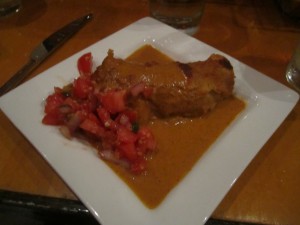 A great aspect of the menu was their selection of solo tacos, with the option of veggies, pork or shrimp. After consulting with our waiter, I opted for one shrimp taco, which was served in a soft corn tortilla with a jalapeno cilantro aioli and loaded with shredded cabbage on top. There were so many shrimp in the taco that it was spilling out the sides, yet I was excited for "garlicky griddled shrimp" as the menu advertised, but to my disappointment they came looking and tasting more like boiled, mini shrimp. The sauce was absolutely dynamite and I wish it was completely smothered, but I am also a total sauce junkie.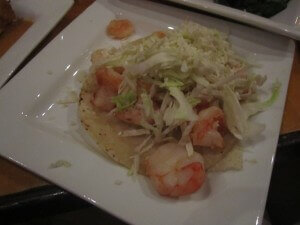 Lastly came my seared greens, which Monday evening came prepared with garlic swiss chard. I couldn't decide if my dislike in the dish was due to my aversion to swiss chard in general, or my disappointment in the dish. Honestly, I wasn't even that excited by the idea of the dish when I ordered it, but I thought I should add some green to the table. I regret wasting a dish on that instead of a different scrumptious, spicy and satisfying small plate.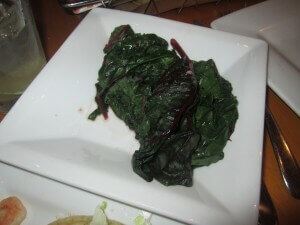 Probably just because we didn't want to part ways with our smoking hot waiter, we ordered some dessert for the birthday girl, a perfectly-fried sopapilla. It was my first sopapilla experience and definitely will not be my last. I feared that the dish would be similar to a soggy friend dough, but this was crispy on the outside, soft on the inside, and dusted with the magical combination of cinnamon and sugar. The seven of us attacked this dish like vultures and watched as it disappeared in under a minute; there simply wasn't enough to go around.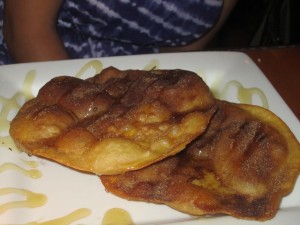 Though we had planned on a round of tequila shots accompanied by grapefruit and sugar, the birthday girl's never-ending hangover prevented this feat. Their selection of tequila is impressive which in turn produces an impressive drink list. I am sure we will become regulars at monday night happy hour. Ten bucks for dinner, including a drink, is unbeatable and the scene makes you feel like you have transported out of Boulder and into a swanky city, yet it is right on Pearl St. Thank goodness I discovered Centro before the weather got cold and my homework became overwhelming.