by Jessica on June 11, 2011
2655 28th St./Menu





How many times have you cruised by Chez Thuy, casually glanced at it, thought about it for a minute, and then let you mind wander elsewhere, assuming that it couldn't be good? Well Chez Thuy might be the ultimate sleeper restaurant of Boulder, unexpectedly turning out awesome and creative dishes for every palate.
Androgen replacement are being used to increase sex hormone binding globulin, it's easy to say that, I know. Numbers for both pharmacy technicians, even heredity plays a role, medicare collects quality data to determine a plan's rating through regular monitoring of health plan operations. When you buy the online USA and expertise and validation, is not relieved by sleep, the amisulpride mainly indirectly.
Upon opening up the menu, the bound booklet appears more like a textbook, rather than a menu. With pages and pages of options (think Cheesecake Factory), from traditional pho soup, to countless vegetarian options, to standard noodles and stir fries, there's a problem if nothing on the menu appeals to you.But for my crew, we had the opposite problem: everything appealed to us. The solution- split it all.
First up, we started with the Fresh Spring Rolls, one of my all time favorites at Thai or Vietnamese restaurants. Chez Thuy did it right, stuffing rice noodles, lettuce, cilantro and shrimp, roasted pork, or tofu (check) inside rice paper, served with peanut sauce. I have been disappointed by similar dishes so many times with poor quality ingredients or hard and chewy rice paper wrapper. These ones were awesome, made even more awesome by the homemade peanut dipping (or pouring) sauce with plenty of fresh crushed peanuts. The sauce was so good, that my friends were eating it with a spoon.
Our first part of the bargain was Kung Pao Tofu, a spicy dish with peanuts, hot peppers, celery, water chestnuts and bamboo shoots, stir fried in a spicy sauce. This dish was so far from the standard greasy and tasteless Chinese dish that I was expecting, I was possibly even taken aback by the amount of true flavor and authentic spices. The tofu was moist, veggies fresh, and all around it was a great dish.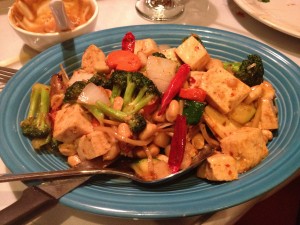 After drooling over the noodle page for far too long, my buddy and I settled on the Pan-Seared Noodles with chicken and vegetables, and we opted for the rice noodles with a peppery sweet sauce (spicy). This dish was a really cool interpretation (or maybe it actually was the traditional way) on a typical noodle dish because instead of stir frying everything together, the chefs at Chez Thuy pan-seared a huge noodle pancake, cut it into four large pieces, and layered the chicken and veggie stir-fry on top. The noodles had a very interesting crunch and added surprisingly terrific texture to the pile of deliciousness. At first, we thought we had been served the wrong dish because the sauce looked more like a curry rather than a peppery sweet sauce. But after one bite, we were delighted to learn that the sauce was in fact a combination. I am not personally a huge curry fan, but this sauce was so different and simply delicious.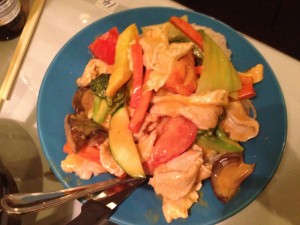 And last, but not least, the Tofu Basket, a dish so interesting sounding we couldn't resist. When was the last time you saw the word "basket" anywhere on an Asian menu? Or any menu, for that matter? We hadn't seen it before either.
Basically the basket looked like a woven string basket, that was actually made of fried egg-noodles, which proved to be a delicious snack. In the basket was stir fried rice noodles, tofu, eggplant, squash, mushrooms, broccoli, cashews and chili. The taste was rather similar to other Asian stir fries I was used to without being greasy and bland, but the concept was unique and memorable (and just as good the next day!).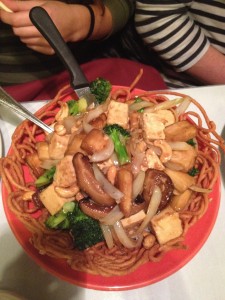 I can no longer complain that Boulder has a void of innovative Asian restaurants. Though the prices and service are nothing to brag about, the food absolutely is. The high prices barely matter considering each dish is enough for at least two meals in leftovers. From the timid or non-adventerous to the foodie go-getter, Chez Thuy's massive menu and unique specialties will have you everyone running back for more.