by Jessica on September 18, 2011
1325 Broadway St # 108





You haven't experienced CU until you've been to Cosmo's, late-night, with spicy ranch.
Pizza shops are one thing that The Hill is not short of. Abo's, Papa Romano's or Cosmo's, take your pick. And that's just on The Hill. Yet when the bars or parties clear out and hungry Buffs are on their way home, Cosmo's is a clear winner.
The people watching alone is reason enough to make a stop by this local joint. Watch the crowds drift in and out, watch boys flirting as they wait for their slices, and watch patron after patron struggling to place their order. Regardless of one's mental state, it is no wonder some have difficulty ordering when Cosmo's serves up about ten different options of pizza by the slice daily (if you could even call it a slice).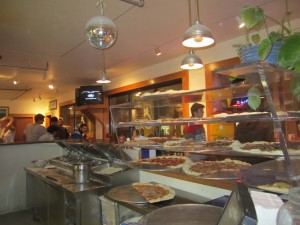 Without fail, I always opt for cheese. Actually, it is really the spicy ranch dip that I go for, so I find that cheese is the best match. Cosmo's slices are about double the size of my head, and are probably equivalent to about two normal size slices. And we wonder why Americans are obese?
Bubbly cheese, soft and doughy crust, flavorful sauce, and simply perfect spicy ranch. The combo is absolute.
I am probably preaching to the choir, since I have yet to find a CU student who has never made a trip to Cosmo's. Nevertheless, skip the other options, and get in line.