by Lowell Bleiweiss on May 21, 2011
2018 Broadway St.





Crepes a la Carte is a place that has always intrigued me. I love French food, but I had never been to a specialized crepe shop before, but the menu posted outside looked great!
I strolled in for a relaxed lunch with my friend, Sabrina, surprised to be greeted with a very elegantly-yet-small space filled with the wonderful sound of Queen's Fat-Bottomed Girls. I could get used to this.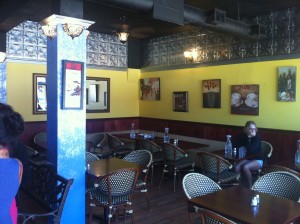 Crepes a la Carte also has a small outdoor seating area, perfect for a day with a bit less wind than today.
A note to future diners: Decide what you want to order on the menu outside. They have little paper menu booklets inside, but they are downright awkward to flip through.
After considerable perusing of the menu, Sabrina decided on the Le Club Crepe, it was filled with turkey, ham, bacon, spinach, tomato, and swiss. I just asked Sabrina how she liked her crepe today, and she replied with an "Mmmmmmmmmmmmmmmm." 'nuff said.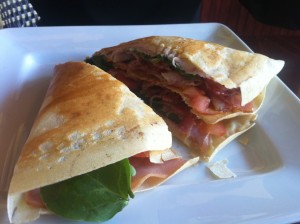 I chose the special of the day, the Duck Confit Crepe, filled with duck, goat cheese, zucchini, and a tart cherry demi-glace. I hate to compare something with a flavor palette like this Duck Confit Crepe to a crepe like the Le Club (am I a crepe snob?), but "Mmmmmmmmmmmmmm" does a pretty good job of describing mine too.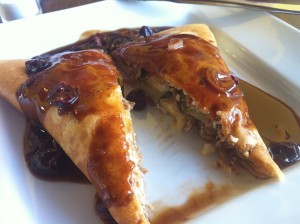 We wanted to split a dessert crepe too, and after another considerable decision process, we chose the Strawberry Shortcake Crepe. This was my favorite of the day. It was filled with fresh strawberries, bits of angel food cake, and a chantilly cream — this is just a whipped cream flavored with a little vanilla. It was light, creamy, and delicious.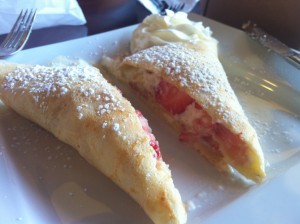 This was a fantastic lunch, albeit a little on the pricey side, all in all costing $33 + tip. If you're just paying for yourself and getting a single crepe, it will run you about $10, so not nearly as bad as our decadence today hah. I will definitely be back to Crepes A La Carte, probably pretty frequently. Say hi if you see me!