by Emily Kane on July 1, 2011
1695 29th St. #1249



Growing up in Chicago, I was spoiled with fantastic Greek restaurants and because of my fiendish obsession with garlic and lemon; it quickly became some of my favorite food. Ever since moving to Colorado I have been searching for a good Greek restaurant to feed my cravings. That's how I discovered Daphne's. Conveniently located in 29th Street Mall, Daphne's is reasonably priced, tasty, fast food Greek.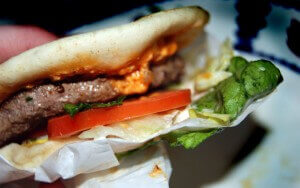 One of my favorite items on their menu is the fire feta burger. It's a Greek rendition of the classic American burger, a beef patty smothered in spicy feta and tucked between two pieces of pita. Boy does it hit the spot. Although it's definitely more on the fast food side, this burger is always very flavorful and not as obscenely greasy as most fast food burgers. The spiced feta is not overwhelmingly hot but packs just the right amount of punch. I opted for a side of fries and although they were great I would have preferred a larger portion for the extra two dollars I paid!
Since I can never pass up baklava, I always grab a piece when I'm at Daphne's. A little gooier than most, Daphne's baklava is crunchy and packed with sweet honey flavor.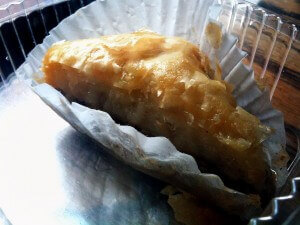 Although it may not stack up to Greektown in Chicago, Daphne's California Greek hits the spot and leaves your wallet intact. With fast and friendly service, it's great for a quick bite before a movie or a late night craving.