by Jessica on April 14, 2012
1918 Pearl St./Menu




At home, my gal pals and I are on a constant quest to discover new casual, counter-style places that deliver healthy fare at reasonable prices. Although the fairness of price is still up for dispute, Dish would absolutely be at on our lunchtime short list.
Dish's small storefront is simple and to the point: a few tables, a case of prepared foods, and a drool-worthy chalkboard. Each line looked better than the next, from the deli basics, to gourmet creations, to clever spins on Boulder's finest vegan and vegetarian rabbit food.
My pick of that day was the Chook, a hot sandwich stuffed with chicken breast, homemade fresh mozzarella, rosemary aioli and oven roasted tomato spread on ciabatta. When the easier asked me if I'd like to swap chips for one of their eye-candy prepared food salads, I said yes please, and chose a cold red bean salad tossed in a vinaigrette. And when asked for here or to go, I could not pass up the opportunity to take my lunch to go and enjoy it on the inviting picnic bench outside.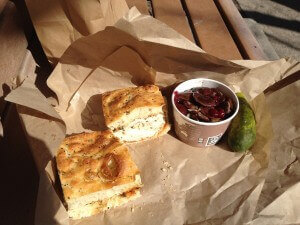 Everything was simply delicious. But for twelve bucks and from a store that specializes solely on sandwiches and prepared foods, I must admit that my taste buds offered a little disappointment. The lure of Dish Gourmet is a crowd-pleasing menu of lunch items and adorable little cafe on a rainy day, but the fare has room for improvement, in both price and flavor.