by Andrew Woodman on February 13, 2011
1630 63rd Street #10
Boulder, Colorado 80301
(303) 440-4045



A name change to "Efrain's Tex-Mex Food Restaurant" is pretty necessary. Even so, my experience at the Tex-Mex style Efrain's was definitely more Tex than Mex. If you don't let anyone convince you that this is the most authentic Mexican food in Boulder, this place is very enjoyable…so let me just clear it up.
The restaurant is part of a large building that looks like an out of business motel colonized by Efrain's and a couple property management lease signs. Regardless of these rather deterring circumstances, the crowd at this hustling and bustling restaurant made for a warm welcome.
This crowd was good and bad: I knew I was getting myself into something good, but I had to pay the price of waiting (which I hate doing). Nearly everyone waiting was buying margaritas, so that and my lack of anything better to do basically forced me to get The House margarita. I nursed that large, smooth margarita from its mason jar and browsed the menu while we counted down our wait. The menu listed many classic Mexican dishes, and of course the fried, American influenced—yet delicious—Chimichanga.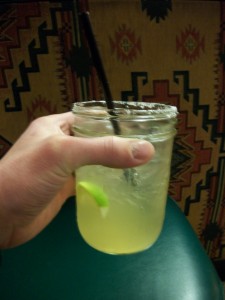 The House Margarita [$5.75]
We sat down to a table and were given fresh tortilla chips. I knew they were fresh, not only because of their perfect crunch and taste, but they were dispensed to our table's chip bowl from an incredibly large bucket that was constantly being replenished with new batches of chips. The chips were naturally accompanied by puréed salsa that was mild enough to keep all of our water cups full.
Fresh tortilla chips and salsa [FREE!]
Speaking of spiciness, Efrain's has a wonderful system to prevent customers from ordering food beyond their personal spice threshold. It's a simple, genius idea that puts all other spice indicators to shame. Here it is: each menu item has a spiciness scale from 1 to 10 next to it. Menu innovation at its finest.
When our waiter placed my Pork Tamale Plate in front of me, the rice, beans and tamales looked like one item that was melded together with cheese and smothered in Efrain's delicious red sauce. I didn't even have a choice between re-fried pinto beans or black beans, which is always a personal eyebrow raiser. This is when I knew that Efrain's was beyond Tex-Mex—it purely seemed like an American rendition of Mexican food. Nonetheless, it was a superb rendition, with perfectly prepared tamales (which, by the way, were very accurately rated by the spicy scale). My favorite aspect of the food was the success I had in mixing everything left on my plate to create a medley of Mexican ingredients that I then scooped up with chips. Delicious.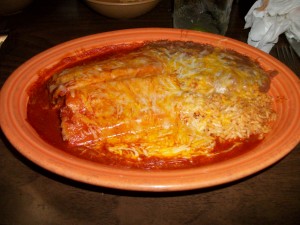 Pork Tamale Plate [$6.75]
So is it the best Mexican food in Boulder? I can't say yes, because that would entail me having gone to every single Mexican restaurant in Boulder. However, I can say that I will definitely return to Efrain's to sip more margaritas while waiting for more of this Tex-Mex gem.