by Lowell Bleiweiss on June 2, 2011
3033 28th St.





I was reading through hungry buffs one day, and an ad for a new sushi place came up, Eggloo – Sushi, Thai, Japanese. I figured what the hell, so I ordered delivery from them one night. Now I'm no stranger to delivery sushi. Hapa's had captured my heart up until that point. When you order sushi for delivery, expect it to be slightly worse than eating in the restaurant by the way. When my Eggloo arrived, it was phenomenal. Blowing Hapa delivery out of the water! So I had to try it out in person.
I got a group of some friends together, and we ventured there for a nice lunch. Pulling up, we discovered a Johnny Rocket-esque diner called Eggloo. Boasting Thai, Japanese, and Sushi; these all in one places aren't usually good. We sit down, expecting our waitress to roll up on roller skates, and we give a waitress that isn't in roller skates our order.
We started with a seaweed salad, a good first test for an iffy-looking sushi place. After a few minutes, a great seaweed salad came out. So far Eggloo: 1 Expectations: 0. This is a dish that any sushi fan should be familiar with. It's seaweed marinated in a spiced sesame oil. Very good.
One of the less adventurous girls in our group (Kristen *cough cough*) wasn't feeling up to sushi, so she decided on the Chicken Yaki Udon. This is a dish with chicken, udon noodles, and veggies all stir-fried together with a Soba sauce. We were all shocked when it came out, it was gorgeous! I had the pleasure of trying this dish, and let me tell you it was not what I expected at all. Eggloo: 2 Expectations: 0.
For those of us feelin' some soosh, we ordered the Lion King roll, the special of the day, and the Black Dragon roll.
The Lion King was a spicy California roll (lame I know, bear with me it gets better) topped with crab and spicy mayo. It was as good as it looks. Eggloo: 3 Expectations: 0. I'm getting my ass kicked here!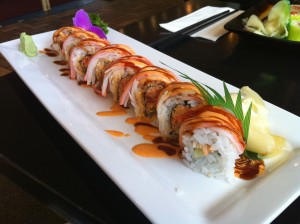 The special roll of the day was salmon, yellow tail, spicy tuna, masago, and avocado all wrapped in a soy-bean paper. This was fantastic, I really can't say enough about it. The level of spice was spot on, and the flavors all stood out individually, while making it better than just the sum of its parts together. Synergy at its finest.ggloo: 4 Expectations: 0. Can I phone a friend?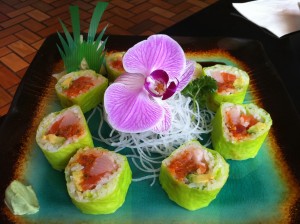 Last but certainly not least was the Black Dragon. This was a shrimp tempura roll topped with unagi, avocado, and black tobiko. This was a great contrast to our spicy others, and the sweet eel sauce drizzled over the top really made this roll a home run. Eggloo, I give up, and the meal isn't even over yet!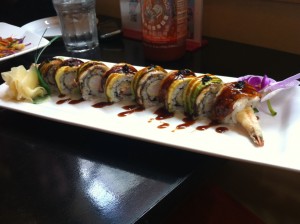 I know I said last but not least, but we wanted dessert after that wonderful experience.. the cigarette after a good… too far. After going to Thai food for years, I've developed a love for a dessert that is sticky rice sweetened with sugar and coconut milk, served with fresh, ripe mango on top. It's light, refreshing, and you really don't need to feel too bad about it. I promise. But really guys, this one's good. I even make it at home!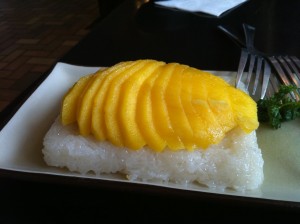 So I guess you can't always judge a book by its cover. Eggloo looks cheap, low-grade, even sonic-like on the outside, but once you get your food, you'd swear it was a trendy NYC sushi joint, and priced to match. At a little bit more expensive than Hapa, you certainly get what you pay for. Not only is it the most creative with its rolls, it's also the best with regards to presentation. Eggloo, I'll be back.