by Jessica on October 4, 2011
1611 Pearl St./Menu





Who wouldn't love a joint with outdoor seating on Pearl St., that serves breakfast all day long, with no wait? For these reasons, I headed to Foolish Craig's last Wednesday morning.
Though I'm sure most people would agree that The Buff serves some of the best chow in town, the driving-distance location and permanent wait often deters me from visiting.
The menu at Foolish Craig's is vast and diverse, with the brunch menu consisting of crepes, typical breakfast items, burgers, sandwiches, and salads. If you can't find something you like on this menu, you have a problem.
Trying to cure my hangover, I immediately ordered a mimosa upon sitting down. The larger-than-normal drink almost filled an entire wine glass, and was not short on the champagne. To make it even better, the OJ was pulpy and fresh- definitely not from concentrate. Though I personally hate bloody marys, I had to snap a picture of my friend's, just to show how great it looked. It arrived spilling over the top of a pint glass, stuffed with a lemon, lime, olive, jalapeno, olive and celery. Wow.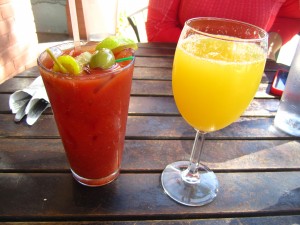 After vacillating back and forth between several omelet options, I settled on The Boulder, which came with broccoli, green peppers, onions, mushrooms, tomatoes, cheddar and drizzled with pesto (or salsa). It might have been the pesto alone that lured me into ordering this dish. I had never heard of that before! It was also served with yummy potatoes and choice of bread, all of which are baked in-house daily. The bread of the day was sun-dried tomato; DONE. Absolutely no complaints there.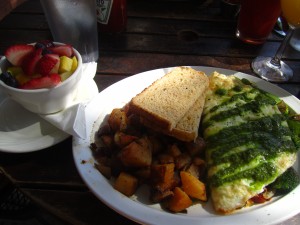 Foolish Craig's sure to be a crowd pleaser, whether it be the picky eater or indecisive couple between breakfast and lunch (we settled on Foolish Craig's because I wanted breakfast and my friend wanted lunch). The menu was so gigantic and there are so many more options I would love to try! In case you are skeptical of how good the spot really is, check it out on Diners, Drive-Ins and Dives!