by Jessica on September 26, 2011
1905 29th St./Menu





After falling in love with Pickled Lemon on the Hill, I was reluctant to try this similar spot on 29th St. I felt as if I was cheating on my loyal boyfriend. Nevertheless, after sampling Garbanzo, I now have two loves for mediterranean cuisine in Boulder.
While waiting in line, Garbanzo employees offered each customer a hot sample of their falafel. Not only did this temporarily satisfy my hunger, but it helped Garbanzo earn some brownie points for customer loyalty and friendly employees, both important factors in my dining experience.
After stewing over the choice between a pita or a plate, and chicken versus falafel, I settled on a chicken schwarma plate. Garbanzo is a nightmare for someone with chronic food envy and indecisiveness like me. Therefore to aid my decision, I said "yes" to each option presented to me.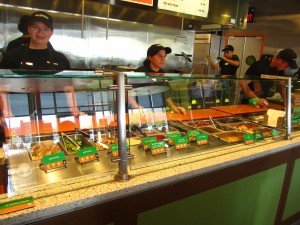 Though the Menu is simple, the options are endless. The bases for your meal are pita, a plate, laffa (similar to a wrap) or a salad, each served with chicken, steak or falafel, and endless toppings and sauces. I chose a chicken schwarma plate with hummus, chopped onion, tomato and cucumber, lettuce, feta cheese, grilled eggplant, tabuleh, red cabbage and babaganoush, topped with the creamy mediterranean garlic dressing and a little tzatziki, and served with whole wheat pita.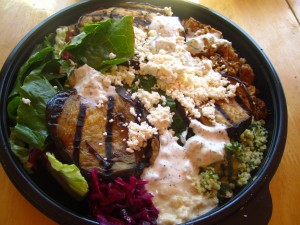 The plate is probably enough food for at least two meals and is essentially everything you would want in a pita, but all side by side on a plate. I could see this as a nightmare for those people who can't stand the thought of having different foods touching on the same plate. But for me, I tried to scoop a tiny morsel of everything onto my fork for each bite. Salty and sweet, smooth and textured, soft and hard, all stuffed into a little bite of pita: heaven.