by Hayley Hudson on March 7, 2011
3601 Arapahoe




I found out about Gindi Cafe on Twitter after they tweeted about a lavender latte. I knew I had to get one because I'm a sucker for anything lavender. My roommate has a container of lavender honey from Williams-Sonoma that she  said I could try, so now I try it almost daily.
After more Twitter stalking, I found out that the cafe closed down for a week in February to remodel and had just reopened with a bigger emphasis on pastries and coffee. I had never been to Gindi before the changes were implemented, but their (old) menu I found online looked delicious, so I went in hoping they hadn't made too many changes.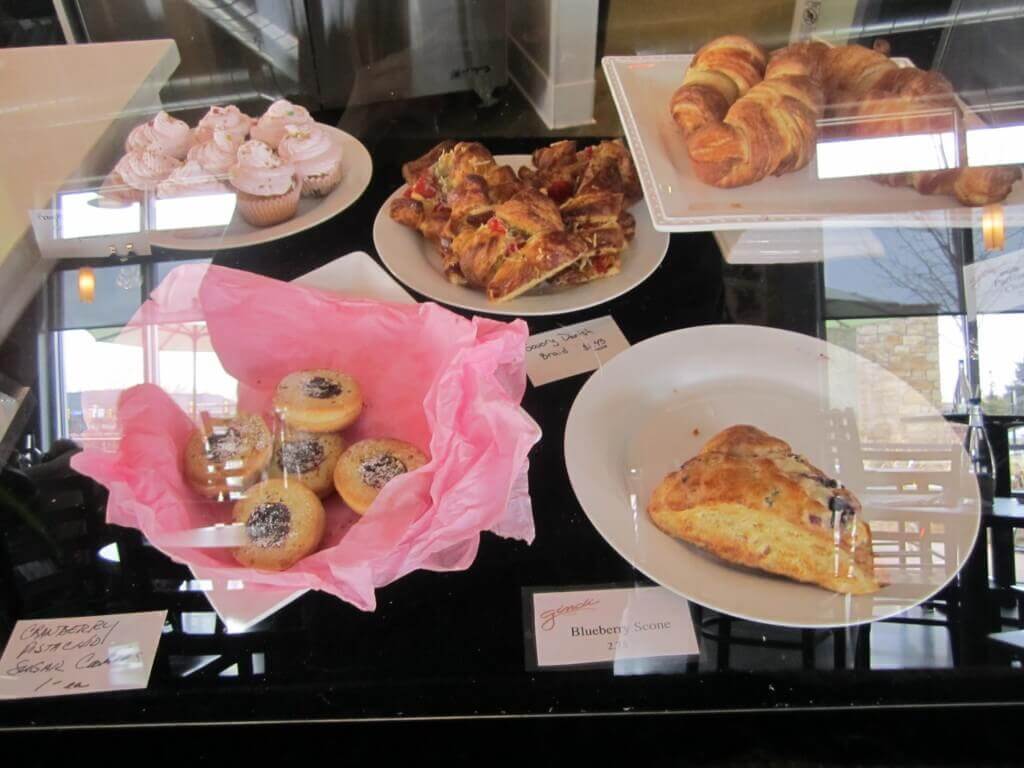 Breakfast options were a bit limited for anyone wanting a meal more substantial than a coffee and a pastry. The breakfast panini seemed to be my only choice.The basic egg sandwich comes with a choice of spreads (zaatar spice, sundried tomato, or chipotle aioli) and can be supplemented with cheese, meat, or roasted vegetables. Despite its status as a default menu choice, the panini has potential for some creative flair, and I requested mine with goat cheese, sundried tomato spread, and vegetables. I especially liked the crunchy, buttery focaccia bread.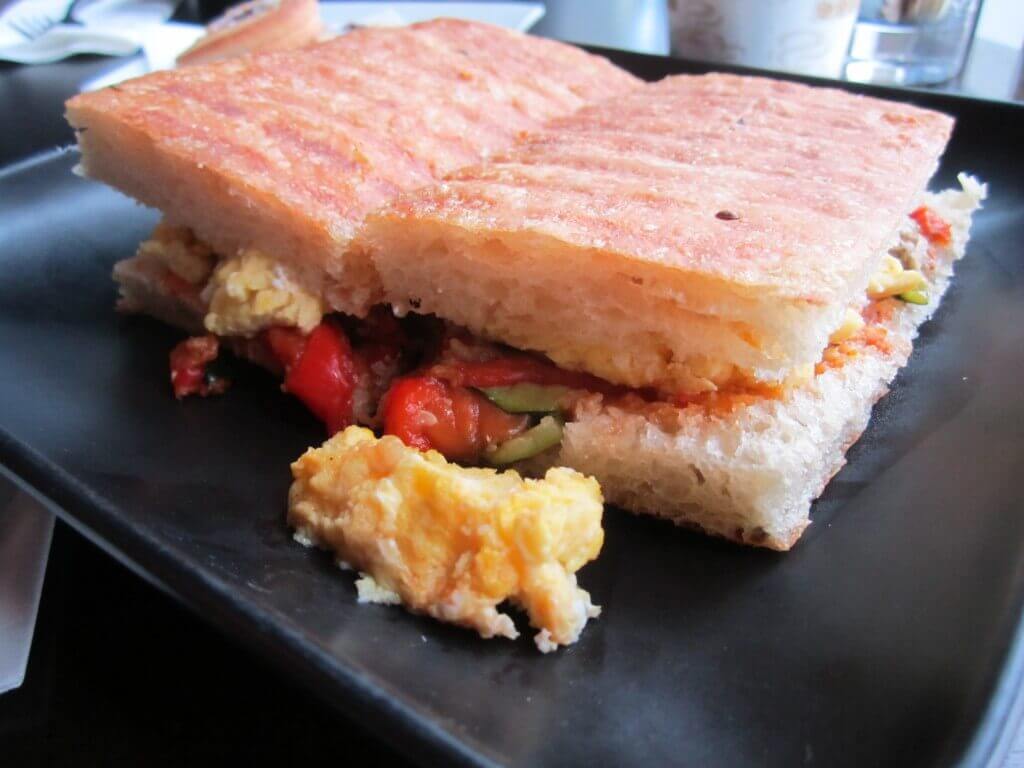 Excuse the stray egg.
Our paninis came with two complimentary cookies from the pastry counter. The cookie reminded me of a Keebler brand Sandie's shortbread, the go-to cookie of my youth during Girl Scout cookie offseason. The jam and pistachios adorning it made it a bit fancier and also more delicious.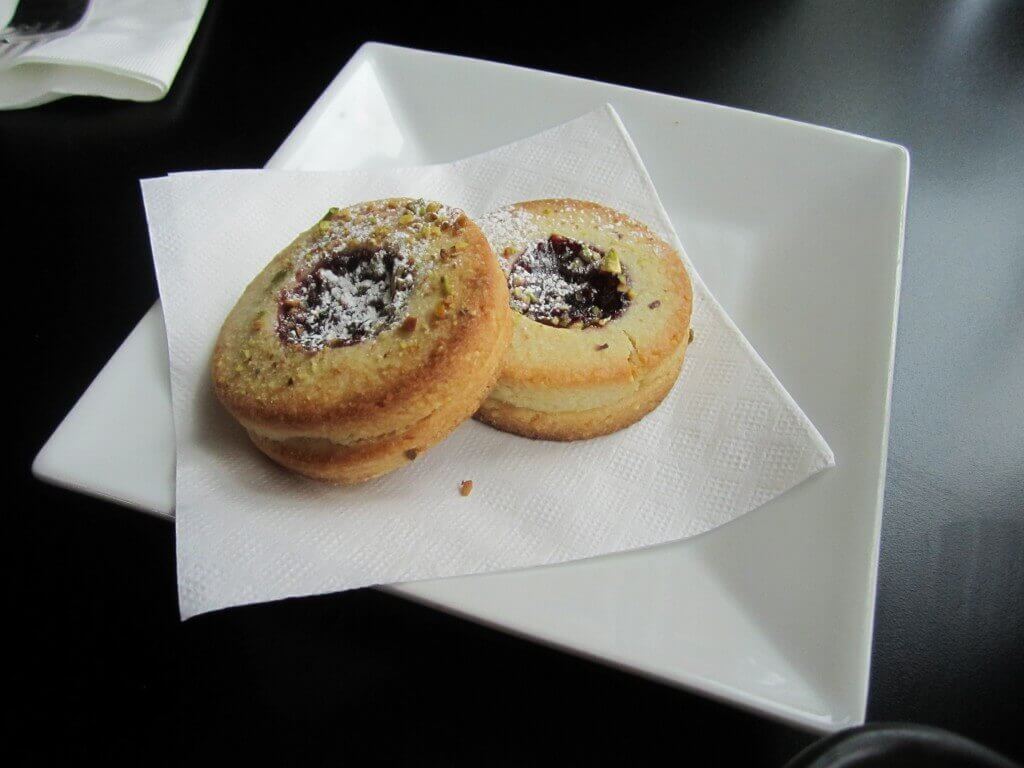 I loved my lavender latte, too.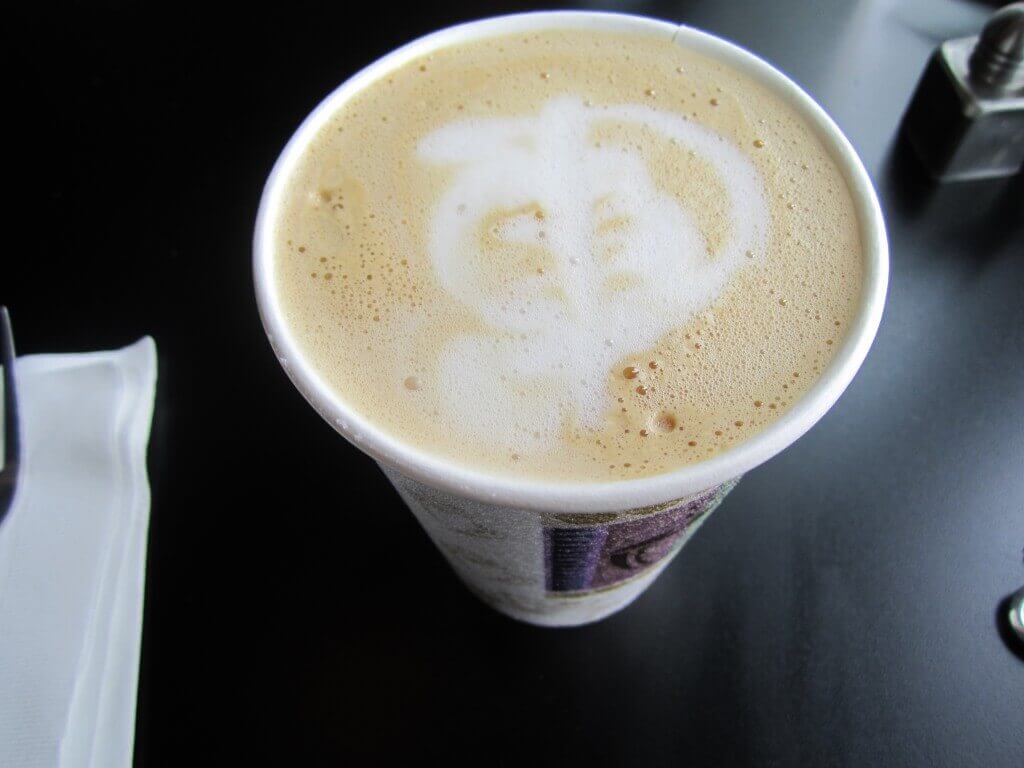 Gindi also offers a blueberry syrup, which is another I'd be interested to try. Since the cookie and the coffee stood out to me more than my panini did, I'd say Gindi is doing a good job in their new emphasis on those areas. However, the sandwich still satisfied. Due to its size, I felt as though I actually had two sandwiches on my plate, so I was able to bring home leftovers for another meal.
Although Gindi masters the dainty details of shortbread cookies and floral coffee blends, they still cater to a crowd with a hearty appetite. You could sip your coffee with your pinky pointing skyward, but it's nowhere near a requirement.