by Lowell Bleiweiss on May 17, 2011




Have any of you been watching the show "America's Next Great Restaurant?" **Spoiler Alert** Well, I have been, and not only was the ending kind of lame, but the Indian fast-casual place, Spice Coast, didn't win (sad face). After seeing how good all of that food looked, I wanted to find an Indian fast-casual restaurant to go try. The result — Gurkha's on the Hill. It is in that little food court next to Crepes To Go Go, I've never been in that food court before. I was pumped!
With the restaurant being not much more than a booth, there wasn't too much to look at, but the menu was nicely decorated, and everything was easy to read. My only qualm was that all of the dishes sounded the same — meat or veggies with spices. C'mon guys we may not all be Gordon Ramsay, but give us a little credit.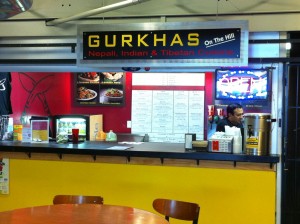 I started out with the Honey Naan ($2) — a traditional Indian bread, then coated in honey. Delicious.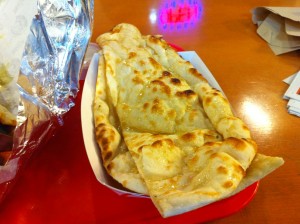 After that, I moved on to the Lamb Chilli Wrap ($9). It looked awesome in the picture on the menu. For a fast-casual place, it did really well on the casual front, dirty food court and eating off of trays, but our food took about 15 minutes to come out. That struck me as weird for this kind of restaurant. Oh well, no biggie.
When my wrap came out, it was wrapped Chipotle-style in aluminum. I unwrapped this <<insert Indian holiday here>> gift, to find a smorgasbord of lamb, onion, jalapeño, and zucchini all wrapped in more Naan.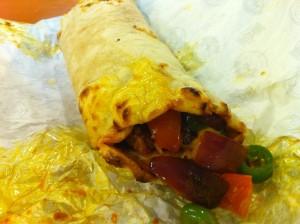 Sounds great in theory, but the thing was impossible to eat. Food kept falling out, and it was so damn greasy that I had to keep getting napkins. Eventually, I unwrapped it and forked the morsels into my Raita, a cucumber-yogurt sauce. Though, because of the greasiness, by the end of the meal, all of the grease had soaked into the Naan. Turning it into a very delicious bite once dipped in the Raita. All in all, not the healthiest meal, and not something I'll do more than once a week, but it was certainly tasty and I can only imagine the killer hangover cure it must be.. Spicy AND Greasy!?