by Emily Kane on June 17, 2011
1220 Pennsylvania Avenue





Hapa is popular with college students and true Boulderites alike. With two locations in Boulder, one on Pearl St. and one on the Hill, Hapa is always hoppin'. While the Pearl St. location is always packed and energized, Hapa on the Hill maintains the modern sushi den feel with a more laid-back attitude.
Hapa's menu has many traditional appetizers and sushi in addition to their own cleverly named specialty rolls. To begin, we ordered the ginger pork gyoza (pot-sticker) and yaki onigiri. The gyoza was served with a side of spicy soy sauce which, mixed with the ginger flavors, made for a lighter starter than traditional pot-stickers. Yaki onigiri is a rice ball served with sweet teriyaki sauce. It is a sizable hors d'oeuvre and is really great to share amongst a few friends.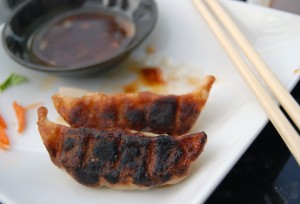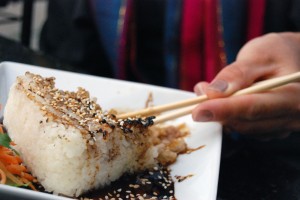 For our main entrée we ordered the Salmon Avocado Roll, Rock N' Roll, and a Cucumber Avocado Roll. The Salmon Avocado had sizable pieces of both fish and avocado, both with incredibly buttery soft textures. I am a sucker for raw salmon and really loved this roll as it allowed for full appreciation of its flavor. The Rock N' Roll is a spicy shrimp roll. Although I could have handled a little more spice, this roll was simple but delicious. The cucumber avocado roll is just that, a satisfying sushi alternative for vegetarians.
The last roll was one of Hapa's specialty rolls, the Mork and Mindy Roll. With white tuna, salmon, chives and mandarin oranges this roll's drastically different flavors makes it really dynamic. The tuna and salmon complemented each other nicely with neither outshining the other.
I have never had a bad meal at Hapa and I love it for girls' night out or birthday parties (be sure to ask for 'the nasty' for your birthday boy or girl). Hapa on the Hill now has an all summer long 24/7 happy hour – so you can enjoy great sushi for a more affordable price!