by Jessica on November 4, 2011
1220 Pennsylvania Ave., Menu




Taking the prize for The Hill's most trendy spot, Hapa serves up creative rolls and Asian items for the sushi-timid, for lunch and dinner daily. Though it has earned an infamous reputation amongst students and is frequently jammed, I must say, it is not my favorite among all of Boulder's sushi options.
On this snowy day a warm, sit-down lunch was just what the doctor ordered. Better yet, Hapa's lunch menu features several lunch specials, including sushi rolls and appetizers, for quite a steal.
For a quick fix to cure out hunger, we started off with some Edemame. Prior to visiting Hapa, I would have argued that edemame was a dish difficult to screw up. Yet after sampling a cold, undercooked and over-salted soybean, I would now beg to differ. Though the menu did advertise the dish as being served cold, perhaps consistent with their edgy and innovative menu, I was curious why they took this spin on a universal dish.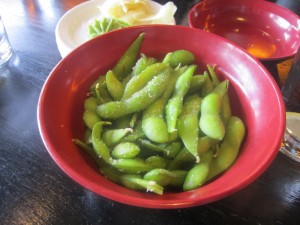 Next, we dug into the Shrimp Shumai, a consistent favorite on their menu. For taste, consistency and presentation, this dish scores pretty highly in my book. But for a joint on The Hill, seven bucks for a few dumplings seems a little excessive to me. But hey, I ordered them, so I guess I'm guilty of Hapa's spell.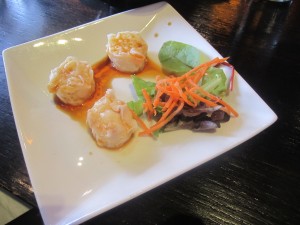 Now on to the sushi. As I've said before, I'm somewhat of an East Coast fish snob. Though my friends had somewhat of a phobia for true sushi and stuck to the basics (think veggie and California roll), I went for the Ruby Red Roll, one of their original rolls with cucumber and avocado inside, wrapped in raw tuna and drizzled with their poke sauce (center). Remove the fish, and it was great. Nevertheless, I was disappointed by the quality of Hapa's tuna.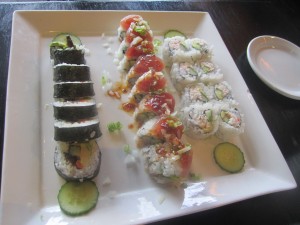 Despite the letdown in Hapa's quality of ingredients, I will give them props for their unbeatably creative menu, which may bump them up to Boulder's best for some. If dining with a group of sushi-phobic eaters, this is the perfect spot for your crew.