by Emily Kane on May 18, 2011
1136 Pearl Street




They should really make you sign a waiver before you begin eating Japango's All You Can Eat Tuesday special; as I'm pretty sure my stomach will never return to its natural size. Tucked away on Pearl Street, Japango is a fun and modern sushi den. With a cozy bar and an outdoor patio, it's great for small gatherings of friends and family.
Their Tuesday special really is all you can eat; from appetizers, traditional Japanese entrees, to sushi you get it all and as much as you can eat for $30! There is one caveat: at the end of the meal anything leftover is an additional .50¢ charge per piece.
We began with miso soup, edamame, gyoza, beef tataki, and dynamite shrimp. The dynamite shrimp, lightly battered in tempura and served in a spicy cream sauce, and the beef tataki were both wicked good.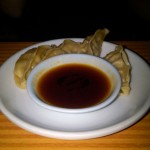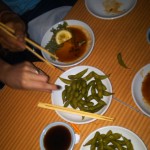 Next we moved on to our sushi. Together, the six of us ordered around 10 rolls, over 7 different kinds of ngiri, and a few temaki (hand rolled sushi). Their special rolls were all very interesting. The Chicago had tempura coating the outside, giving the roll an extra crunch. The Colorado roll was nicely prepared with tasty strips of albacore tuna on top. I would also suggest the New Orleans, or spicy tuna. It had just the right amount of spice and was topped with salmon roe!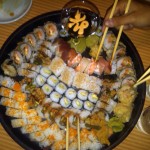 All of our ngiri was fantastic as well. The squid, or ika, had a blue-white color and a slippery texture, but was really quite interesting! The ikura, salmon roe, arrived looking like an orange sherbet ice cream cone and was delicious. Our shake (salmon), maguro (tuna), and unagi (eel) were also great and very fresh. Our only complaint was that they were out of uni (sea urchin). I was looking forward to trying that spiky sea creature!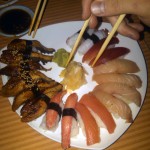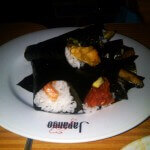 Although our waitress didn't believe we could finish it all we most definitely did (although I'm pretty sure it was mostly thanks to the two hungry CU rowers with us). The great 80's playlist also added to the fun atmosphere. After my first meal at Japango I would say it is a must try for sushi fans and I highly suggest the Tuesday special. With seemingly limitless options it's really fun to order things you otherwise wouldn't. But remember to bring your appetite and maybe a pair of your most forgiving pants.