by Jessica on October 16, 2011
928 Pearl St./Menu





Hands down my favorite restaurant in Boulder, I have waited far too long to return to this world-class establishment. Laid back but upscale, sophisticated yet simple, all with a knockout location on Pearl Street's West End. Coming from an East Coast food snob, I never thought I'd find such great seafood out here in landlocked Colorado.
Even as an East-Coaster and Cape Cod local, oysters have never been my thing. Cooked, raw, swimming in vodka, they gross me out. Yet for those shellfish-lovers, Jax is the place to go. Each night, they feature a different selection of oysters from both coasts, depicted on a menu from which diners can pick and choose to their liking. My friend opted for a half dozen, just about one of each, which of course was presented beautifully on a bed of ice with all the fixings, and came with high recommendations from both the eater and server.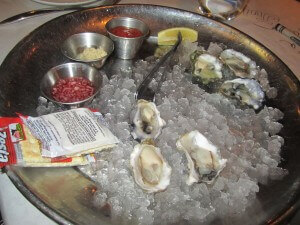 For a starter, we were drawn towards the Ahi Tuna Tartare. This unique spinoff on a largely popular dish came mixed with asian pear, avocado mousse, lime, and puffed sushi rice. As if the presentation wasn't awe-inspiring enough, the taste was. Often times I find my tuna tartare to be a glob of tuna, as delicious as it is, and maybe doused in some soy. I absolutely loved how Jax threw in asian pear and puffed rice for texture, flavor and crunch. I might go ahead and say it is some of the best tuna tartare I've ever had.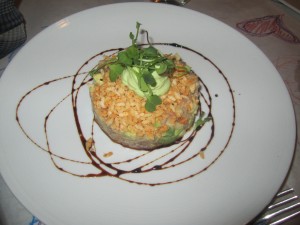 After being blown away by the menu and liking nearly every option I read, my waitress sold me on the Grilled New England Sea Scallops. The scallops, which were tender and grilled to perfection, were served on a bed of cheddar grits, with a summer succotash and creamed corn. As a true New Englander, the thought of eating New England seafood outside of New England always turns me off. Yet I will come out with my tail between my legs and say with my eyes closed, I could have been eating this dish on a dock in Cape Cod. Sensational.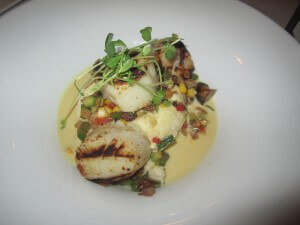 I left Jax feeling satisfied yet begging for more. Word on the street is their happy hour is exquisite, serving up their standard, quality food at happier prices, so I will absolutely be returning in the near future. Yet as my foodie journey through Boulder continues, I would be impressed if I found somewhere that beat my loyal favorite.