by Jessica on August 28, 2011
16oo Broadway St




After having traveled to Thailand a few years ago, I have developed an obsession with Thai food. Some may call me a food snob, but personally I think I just know what's good. I now know what to order, returned from Thailand with some new favorites, and would never, ever order plain pad thai. Therefore, I am constantly on the hunt for good Thai food. And in my opinion, the more of a hole in the wall kind of place, the better.
So Sunday night I ventured to one of my favorite spots which I am fortunate enough to have two blocks from my house: Khow Thai. Not only is this choice a consistent spot in my book for solid, traditional Thai cuisine, but the service and range of creative and spicy dishes on their menu is an extra plus.
Though insignificant to some, one of my favorite aspects about Khow Thai is the complimentary vegetarian soup each guest receives upon being seated. The small cup of soup is just enough to tickle your taste buds and cure my often urgent hunger, but not enough to fill me up for the delicious meal to come. The spice is hot for some, but perfect for me, and the consistency is strangely more syrupy than a typical water based soup, but works with the balance of flavors.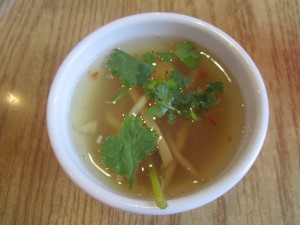 My friend and I decided to share the Fresh tofu spring rolls as an appetizer, one of my favorite traditional Thai dishes that I love to order at each Thai restaurant I try. Often times the rolls appear on the table looking fresh, plump and accompanied by a scrumptious looking sauce. Yet when you bite into the roll, the rice paper is dry and tough and fillings are far from fresh and much to my disappointment. But to my delight, Khow Thai's fresh summer rolls were truly fresh and contained crunchy sprigs of cilantro and bean sprouts in addition to tofu (though the menu also featured an option containing tofu). Almost just as important as the rolls is the sauce that comes with; this sauce was rich and saturated with peanuts, which perfectly complimented the starter.
I decided to take a detour from my standard order of noodles and selected Pad Kra Prau, a stir fry dishes containing onion, bell pepper, fresh chili, garlic, basil leaves and chicken, served with a side of brown rice (or white if you so desire). When asked how spicy I would like the dish to be, I requested medium and I was more than happy I did not order it hot, (one could choose between "American hot" and "Thai hot"). The dish was hearty and light at the same time, and the spice was on the perfect line between bland and burning my tongue off, and the rice was a great compliment to cool it down.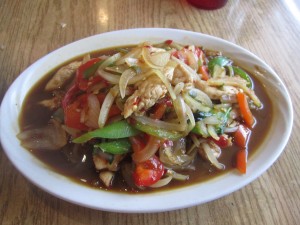 Khow Thai is a solid choice for a consistent, quick and easy meal any night of the week. One thing I would have liked to see in their dishes were more authentic thai spices, as opposed to crushed chili flakes. From now on, it may become my go-to spot when I don't feel like looking dinner but don't want to travel far, like every Sunday.