by Zoey Ripple on June 24, 2011
1600 Broadway Street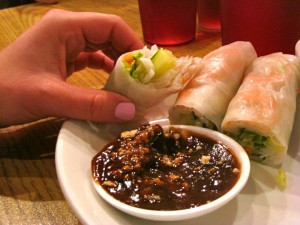 Thai food is one of my absolute top favorite foods. The exotic Thai spices combined with the flavors of coconut, lime, and peanut creates delicious curries, noodle dishes, and soups. Being a Thai food fanatic, I discovered Khow Thai three years ago when I arrived in Boulder. Since then, I have been a frequent customer as all of their dishes are tasty, and the meals are perfect to share with large parties of people. On this past visit, the food was not as good as usual but I learned that the main chefs are cooking on Saturdays and Sundays, which does make a difference in the quality of the food.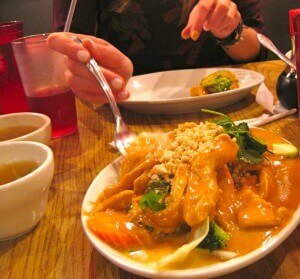 Individual bowls of complementary soup are always brought out for the table prior to ordering. The soup, Tom Yum, tastes slightly like a mild sweet and sour sauce, and is served with tofu, mushrooms, tomato, ginger, and cilantro. Truthfully, I, as well as those I have brought to the restaurant, have never been the biggest fan of the soup. For our hors d'oeuvre, we ordered Spring Rolls with Shrimp. The rolls were served nicely chilled with shrimp, crisp lettuce, and carrots wrapped in a chewy rice paper, and served with Hoisin sauce (a Chinese dipping sauce) topped with chopped peanuts. The Spring Rolls were the perfect light and fresh starter for our meal.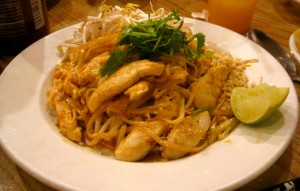 The main entrees, at Khow Thai, are perfect for sharing. They are large portions, are all served with the option of white or brown rice, and can all be ordered with a choice of vegetables, sea food, beef, chicken, or tofu. The Chicken Peanut Stir Fry was served with strips of chicken and steamed vegetables with a spicy peanut sauce. On this visit, the sauce was too thick of a consistency for my liking, but flavors of the dish were satisfactory despite this. I never fail to order Pad Thai when I visit Khow Thai. The stir-fried rice noodles are never overcooked, and it is impossible (even for the pickiest of eaters) not to like the dish, which is served with scrambled egg, crispy bean sprouts, and topped with coarsely chopped peanuts and lime.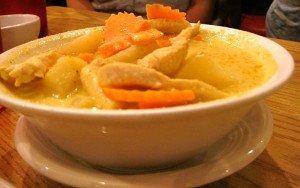 Curries at Khow Thai are truly delicious. This time, I deviated from my standard Green Curry, and ordered the Yellow Curry with chicken. The base in the Yellow Curry is a creamy coconut milk spiced with curry powder over tender chicken, carrots, soft potatoes, and peanuts. I'm convinced; this curry truly MUST be the comfort food of Thailand.  Lastly, we ordered the Pad Kee Mow. The dish was flat rice noodles with fresh chili, garlic, bell pepper, basil leaves, tomato, onion, and broccoli. And it was SPICY! My palate fortunately is used to unusually spicy foods, however the meal had a member of our party with tears in her eyes courtesy of the spice. So BEWARE, those who cannot handle the heat, stray from the items on the menu with chili peppers by their name! The service at Khow Thai is not the best, but the little Thai restaurant never fails to bring in customers.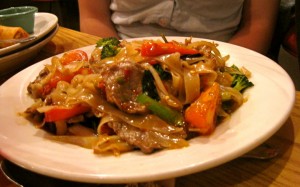 It is an excellent restaurant for students, as the prices are low and I always leave the restaurant very full and very satisfied.