by Jessica on February 5, 2012
1325 Broadway St./Menu



Perhaps the only Asian street food that exists in the area, Kims is likely known by most as "the hut on University." Embarrassingly, I lived on The Hill for months before even realizing it was there. Yet despite being frequently overlooked, Kims Food To Go is a stop not to be missed by Asian food enthusiasts like myself.
The menu at Kims ranges from typical Chinese dishes like Lo Mein and Fried Rice, to more traditional Vietnamese specialties like noodles, Vietnamese egg rolls, and Pho. In the past, my visits to Kims have been to cure my craving for some greasy noodles. But today, I was in search of some good pho soup. And it was a success.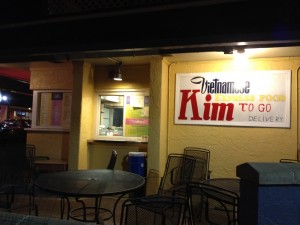 Pho soup is one of the most well-known specialties from Vietnam, made up of beef or chicken broth filled with meat/tofu, veggies, rice noodles, and a variety of condiments such as jalapenos, cilantro, lime or brown sauce to name a few. Because Kims is largely for take-out, they serve their Pho a little differently. When I opened the bag when I got home, I found a jug of broth accompanied by a box filled with noodles, tofu, steamed mixed vegetables, japalenos, and containers of Siracha and brown sauce. Though initially surprised, I later decided that this was a great way to serve an otherwise intricately-assembled dish without sacrificing any of the add-ons (though I would have loved some cilantro and lime). Since anyone can really steam some noodles and veggies, what really makes Pho great is the broth. I found Kims' soup to have immense flavor, especially after adding a generous portion of brown sauce and Siracha.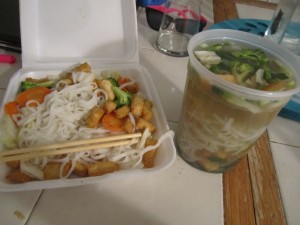 Overall, Kims Food To Go is a great quick and easy stop to cure a craving for basic Asian food. However, not all my previous experiences there lived up to the quality of the Pho. Why only three stars? Inconsistent quality, lack of seating (only two rickety outdoor tables) and lack of creativity. But in a shack on The Hill, I suppose beggars can't be choosers.