by Lowell Bleiweiss on May 4, 2011
2750 Glenwood Dr




One of my favorite restaurants back home is this little mom-and-pop Korean restaurant with a name that I can't pronounce. So naturally when I came out to Boulder, I wanted to find a good Korean place. After an extensive search — googling Korean restaurants in boulder is extensive right?– I found only one, Korea House, so off we went.
Korean-looking wall-hangings and tchotchkes lined the walls. There was a large hutch right in the entrance way filled with sakes and beers, my kinda place.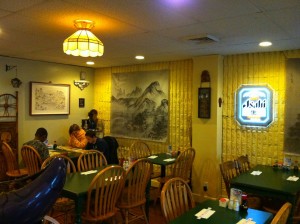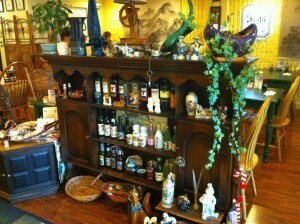 We were seated by the owner's wife, she then sent out her hubby to have a chat with us. He made some recommendations, and we ordered right then.
Ever since I started going to Korean BBQ, I've had a deeply engrained love for Kimchi, typically cabbage rubbed with a fermented soybean paste and left to sit in a jar, in the ground for up to six months. You'll have to trust me on this one, it's good. So we started out with a Kimchi pancake ($6), Korean pancakes are more like a thin frittata than an American pancake. It was delicious.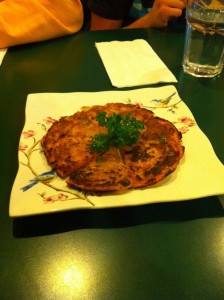 To get a taste of everything we got the Combination Plate ($14). This was just what we were looking for, it had Bulgogi – BBQ beef marinated in a sweet soy, Galbi – BBQ spareribs marinated in a fruity soy, and a BBQ chicken marinated in the Bulgogi marinade that apparently doesn't have a Korean name.
To round things out the combo plate came with Meat Jeon – a pancake with Bulgogi in it. The pancake was by far my favorite, but everything was good.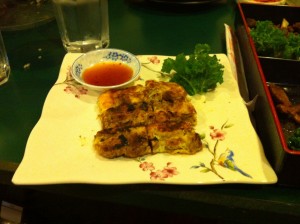 Not being quite content with the extravagance of our order, we also got Jop Chae ($10.50) (pronounced Jop Chay). This is a very traditional Korean dish consisting of Vermicelli noodles (the thin, clear, chewy delicious ones) stir-fried with beef, mushrooms, and veggies. Very good.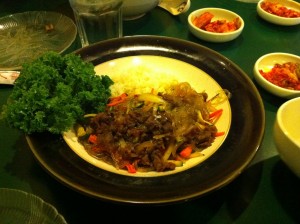 I know you're all getting hungry and are wondering when I'll be done with this post so you can go out and try Korea House, but there's just one dish left, Hot Stone Pot Bi Bim Bop ($10). A regular Bi Bim Bop is BBQ Beef and various, colorful vegetables served over a bed of rice with a fried egg on top. The hot stone variety keeps cooking the rice so it gets a little crunchy, a perfect textural experience if you ask me. It also comes with a raw egg on top that cooks in the bowl. Turns out, I ordered the regular Bi Bim Bop ($9.50) by mistake! So we got the Hot Stone Pot one too. The hot stone pot really takes it from good to great. It came with one of the best hot sauces I have ever tried too!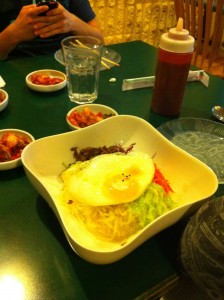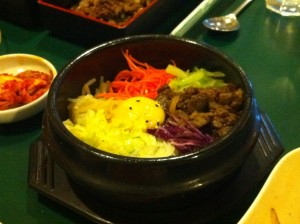 On our way out the owner told us a joke about a talking baby and his grandpa.. At least he can cook! Now I'm done, go enjoy some Korean food.