by Jessica on September 7, 2011
2525 Araphoe Ave.





Burger lovers beware: Larkburger is much more than your classic, pub/burger joint. With their menu featuring options such as an ahi tuna burger and grilled portobello burger, this spot is so diverse it might even offend the self-proclaimed burger lover. Lucky for me, I was just looking for a quick bite to eat, and don't even love burgers.
For ten bucks, I think that Larkburger's got the best deal in town. My favorite combo: the Little Turkey, a small salad, and the orgasmic truffle fries.
I love that Larkburger offers a mini version of some of their burgers because it allows you to indulge on a few sides without feeling absolutely stuffed. Because I'm not a huge fan of red meat, I am always sold on a turkey burger because I don't feel completely guilty going to a burger joint and not ordering a real burger. Larkburger's is moist and flavorful, and the sammie is stacked with the perfect combo of fresh lettuce, tomato, onion, sauce, rich cheddar cheese, and a fluffy bun. If you're into the little things like me, I go crazy over the presentation: always served in a little box with a popsicle stick.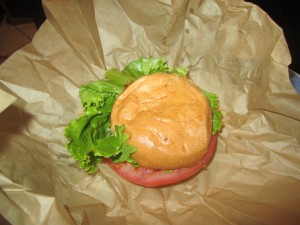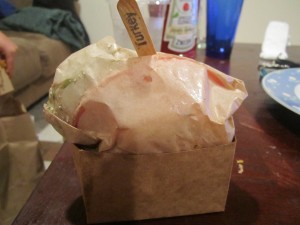 I also love their fresh, ice cold salads, which I find to be the perfect combo with the hot burger. Their homemade asian dressing is light and flavorful, and the salad is huge for just a few bucks. When I was there, they were "out" of small salads, so they gave me a large for the price of a small. I know, I didn't understand it either.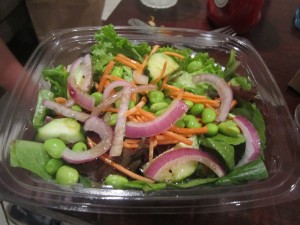 And last but not least, the out-of-this world parmesan truffle fries. I have come to the conclusion that its pretty hard to screw up truffle fries, but Larkburger's are among the best I've had. The generous sprinkling of parmesan cheese and plenty of truffle oil, both which are spread throughout the heaping portion and not just dusted on top, add flavor and texture to the otherwise awesome fries. This side is so good, it is absolutely guilt-free and completely acceptable to finish them off alone (though I did have some help).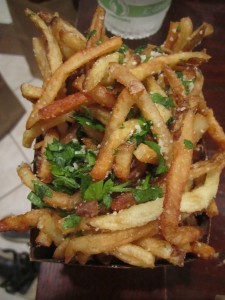 Larkburger's speedy service, dine-in or take-out options, stellar food, and free sodas for students keep me coming back on a regular basis. It feels like a real meal on a student's budget. If only it was located on The Hill…