by Andrew Woodman on April 26, 2011
1346 Pearl Street
Boulder, Colorado 80302
Lazy Dog's website




I came here with my roommate Matt to watch the Nuggets third playoff game.  This place was great for that, eating copious amounts of nachos and wings, and just about anything else you'd imagine doing at a sports bar. Like drinking beer, or something.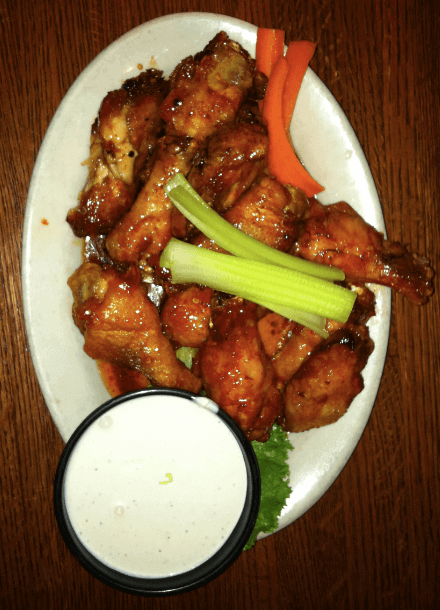 We ordered a dozen Crispy Chicken Wings [$10.95], and split the order between the mild flavors of ginger chili and honey chipotle.  That part didn't really matter, since all of the wings kind of tasted the same, with the flavor of honey standing out more than anything else.  But that didn't really matter either, because they were still all extremely crispy on the outside, and pretty darn good on the inside.  Although they weren't falling off the bone or anything, the meat was still pretty moist.  And let me tell you, this is some of the best celery I have ever had (haha).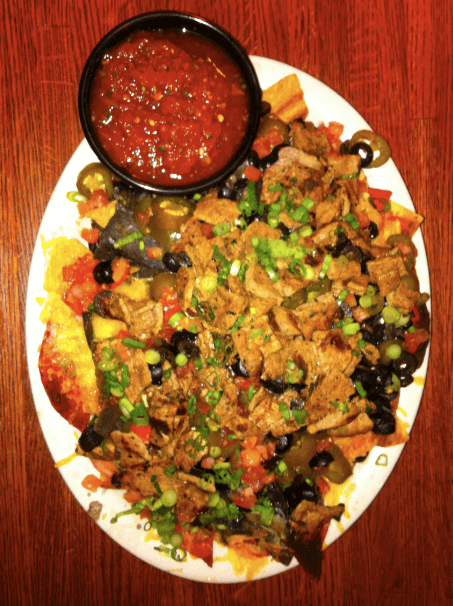 Then we got the Macho Nachos [$10.95] with steak [+$2] since we already had chicken.  They were absolutely insane, with a fantastic toppings to chip ratio (so many toppings), and some puréed fresh yet mild salsa on the side.  They featured a heap of black beans, tomatoes, black olives, green onions, jalapeños on top of a relatively much smaller bed of chips.  The steak bits were surprisingly really good, and were juicy with actual flavors… not just some crappy Nacho-esque side cut that is also worthy of being fed to a dog.  The cheese was cheddar and jack, which did a fantastic job of making you feel amazing by getting a bunch of really good bites stuck together into one extremely exciting nacho bite.  This reminded me of that one scene from the movie Saving Silverman:
______________________________
Along with all this food I obviously had a few beers, of course (none of the beers were Coors, although that is definitely an option, duh). The classic sports bar food was done super well, and the atmosphere only added.  The camaraderie, cheering and yelling in an absolutely spastic manner when JR Smith tied it up with a baseline 3 at the end of the third quarter made the whole night worth it… Even if Denver lost and became 0-3 in the series against the Oklahoma City Thunder… At least I was at the Lazy Dog.
/^_^\