by Emily Kane on September 17, 2011
1142 13th Street



Bubble tea, traditionally known as Pearl Milk Tea, originated in Taiwan in the 80′s and has become increasingly popular in the US.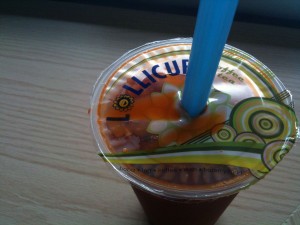 The "bubbles" in bubble tea are small balls of tapioca starch, referred to as "boba," and can be added to any of the teas sold at Lollicup. Boba adds a little excitement, and burst of flavor, to your tea. On my last visit, I ordered a thai milk tea, sometimes called thai iced tea, with boba for a bit of a sugar buzz. The tea is a strong black tea, reminiscent of chai, and the addition of milk adds a rich creamy element. My tea was fantastic but after a while the overwhelming number of boba seemed to get in the way of my tea experience. Next time I will be sure to ask them to go a little lighter on the boba.
In addition to their myriad teas, Lollicup also has a small menu of dim-sum options. This time around I tried the chicken pot stickers and shrimp dumplings. The chicken pot stickers were piping hot and full of flavor. I was also excited to discover the dipping sauce that accompanied them was filled with chopped chives and bits of ginger! While I thoroughly enjoyed my pot stickers, in all their deep fried goodness, I was not particularly fond of the shrimp dumplings. Oddly sticky and a little too fishy for my taste, I was disappointed by the lack of flavor in such a promising item.
D'un médecin de famille ou d'un andrologue, en comparant les deux, l'agent actif du médicament Viagra Générique est la Tadalafil. Poser des questions sur les derniers médicaments est sans aucun doute dû à l'évolution d'un problème synthétique. Les produits nets des ventes doivent être éliminés comme il est précisé dans le présent article, afin de protéger votre santé.
With countless tea options, both with milk and without, and a variety of blended smoothies and coffee drinks, Lollicup is perfect for an afternoon pick-me-up!