by Zoey Ripple on June 1, 2011
2124 14th Street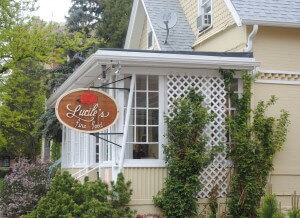 It is my belief that Sundays should always begin with going out to a big breakfast with friends or family. If people took full advantage of their Sunday mornings, the world would be a happier place. SERIOUSLY. Despite having already eaten one breakfast, I readily joined my friends as they headed to Lucile's. See that's how dedicated I am to Sunday breakfasts, don't judge! Lucile's is one of the most popular restaurants in Boulder for breakfast, and even though it was my first time at Lucile's, I immediately understood its' popularity. The charming yellow cottage is covered in vines, and actually looks straight out of a fairy tale. Its' interior is bustling, cheery, and filled with Mardi Gras colors, beads, and masks.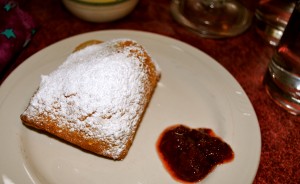 It was a day for firsts, first time to dine at Lucile's AND first time to eat a beignet. For those of you who have not had a beignet, you have not experienced true culinary delight. The four beignets arrived at the table dusted in powder sugar. The exterior of the French donut was warm and crispy, and as I pulled apart the steaming dough, I dipped it into the most delicious tart sweet strawberry preserves I have ever tasted. My only complaint was there was too much powdered sugar piled on the donuts, but really not even that could take away from the dessert that has become my new comfort food. Honestly…I even dream about them.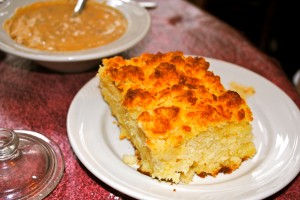 As I was on my second breakfast, I ordered a lighter option,  two poached eggs over spinach. But again, I couldn't bypass Lucile's infamous biscuit with gravy. The biscuit was enormous, fluffy, and moist with a crunchy topping. Despite never having really enjoyed gravy on my biscuits, I followed the example of other diners and fully drenched my biscuit with the gravy. The gravy was flavored with paprika, various Cajun spices, and peppered with crisp bacon, and once paired with the moist biscuit, I could not have imagined a better combination!  My eggs were poached to perfection over a generous portion of spinach, which I enjoyed with two specialty salsas. One salsa was too sweet, but the other had an excellent smoky chipotle bite to it, that was a wonderful addition to the eggs.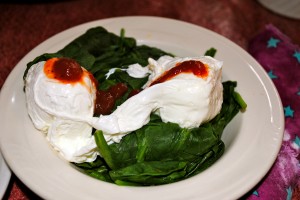 Lucile's excellent breakfast is only complemented by friendly and attentive service, and as if I couldn't rave more…I loved the warm, bustling atmosphere with the lively Cajun music playing in the background.  So, THANK YOU Lucile's for another wonderful Sunday morning, and for introducing me to the amazing beignet, which has quickly become my guilty pleasure.