by Andrew Woodman on April 3, 2011
2500 Baseline Road
Boulder, Colorado, 80305
May Wah's website

The rainy/snowy day was a great excuse for me to continue re-watching Season 1 of the NBC sci-fi drama series "Heroes" that I started on Friday (it is seriously fantastic, if you haven't seen it).  After 5 episodes, and with a desire to continue my day long trend of being a complete bum, nothing sounded better than some slightly above mediocre Asian food.  Luckily, May Wah offers an entire menu of just that.
the sassy phone call
I called the Asian fusion place to order some food for pick-up.  I couldn't eat there because I had to continue watching Heroes, as the suspense could have literally killed me if I stopped.  When I dialed their number on the phone, the lady on the other end had the same tone of voice as any normal person would project if they had just found out they were being pranked.  "Beef panang curry [$9.45], and an order of vegetable egg rolls [$2.75], for pick up" I said. Annoyed, she said "10-15 minutes," then hung up. "Wow," I said out loud to myself, impressed with her lack of etiquette. Bitch.
the food pick up
I went to pick up my food and wasn't surprised by the layout of the place.  The carpet, walls, chairs and tables made it look just like any average Chinese place.  Maybe they all have the same interior designer, or something.  The lady was a lot nicer in person, maybe she's just has phone-phobia.  I had the choice of steamed or fried rice, which I for some reason wasn't given to me when I ordered.  When I said fried, the lady literally sprinted into the kitchen, said a bunch of really fast foreign words, and then walked back cheerfully as if nothing happened at all.  Overall, a kind of weird experience.
the food (finally!)
The fried rice was simply not what I was expecting.  It was just rice, fried with an egg and then somehow salted up.  I was at LEAST expecting some carrots, onions, or peas… or something.  I Wish I had gone with the more promising steamed rice.
The vegetable egg rolls were…well, just egg rolls. Greasy, Asian tasting egg rolls that came with a citrus-flavored, yellow dipping sauce.
[not even photo-worthy, everyone should know what an egg roll looks like]
The beef panang curry was pretty alright overall.  The creamy, spicy orange curry was pretty good, actually, and so were the vegetables (onions, red/green peppers, potatoe, tomato). I didn't order vegetable panang curry, though… I was expecting a good beef dish.  In fact the only thing  I disliked was  the beef, which was chewy and had a bizarre texture in general… That pretty much weighed down the whole dish from "great!" to "alright…" for me.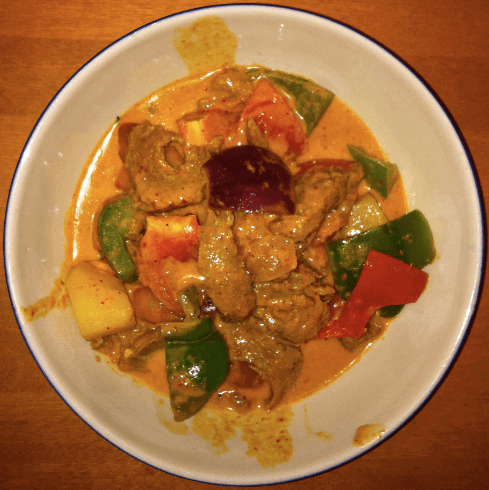 _____________________________
Although I rated this place as just slightly above mediocre Asian food, there is always a time for eating this type of food.  And today, it was definitely destined to be part of my agenda.
Also, look how well my fortune cookie worked with the "adding 'in bed' to the end of your fortune" game.
/-_-\