by Jessica on September 11, 2011
Modmarket: 1600 28th St.
Boulder Farmer's Market: 13th and Arapahoe/Canyon





I can't tell what I love more: the idea of the Farmer's Market in general, the fact that it is a mere four blocks from the Hill, or the bomb breakfast sandwich the Modmarket stand was serving up all morning.
I have always been a huge fan of the Boulder Farmer's Market. From the fresh produce and flowers, to the endless, made-t0-order food options, it is my number one pick for dinner on Wednesdays and brunch on Saturdays. Though often times I find myself too full from all the samples to actually sit down and order real food, today I could not pass up this delicious-looking breakfast sandwich.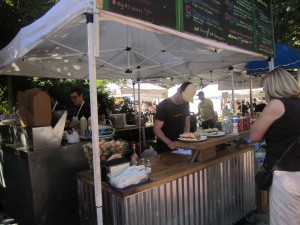 I have what some people call food envy. No matter what I order, I always regret my decision after re-reading the menu or seeing someone else's food pass by. On the rare occasion that this syndrome does not pass over me, I know it was really, really good. Welcome to Modmarket.
I immediately selected the first option I saw on the menu: an egg sandwich with arugula, tomato, provolone cheese, and a basil aioli on fresh, toasted ciabatta bread. Modmarket mastered the balance of flavors amongst all the different ingredients, much more complex than most average breakfast sammies, and managed to keep the bread from becoming soggy from the eggs. Yet the bottom line might just be that I am a sucker for aioli. Probably anything with aioli on it is sure to please me, yet this one was rich but light and went perfectly with the eggs.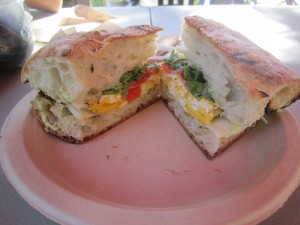 Though I did vow to try something new each time I visit the farmer's market, it will be difficult to stray from this sure-to-please sandwich. Healthy yet satisfying and a sure hangover cure, Modmarket's stand at the Farmer's Market will absolutely appeal to any palate and is not to be missed.