by Jessica on October 4, 2011
3075 Arapahoe Ave. (also 3267 28th St. and 2560 Broadway)/Menu




As a Jew from the northeast, I am undoubtedly a bagel snob. Though I will give into a guilty pleasure of a doughy, store-bought bagel once in a while, nothing compares to a homemade one from the local bagel shop. In a quest for my perfect bagel, I ventured to Moe's.
I had no idea what to expect, and apparently the expectations that I did have were quite low. Typically, a bagel joint passes my test if it offers a selection of about eight kinds of bagels and a few cream cheeses. Of course, Moe's delivered this, in addition to a whole menu featuring breakfast and lunch bagel sandwiches, in addition to fifteen homemade cream cheese spreads. I was floored.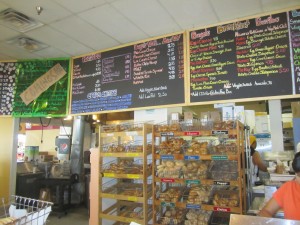 Recently, I have been a big believer that simpler is often better. So for my first trip to Moe's, I skipped all the bells and whistles, and stuck to the basics. I ordered a onion bagel, toasted, with plain cream cheese. Boring, maybe. But from now on I will have a base from which to compare the rest of their offerings.
I have to say, I was a little disappointed in the actual bagel. Though it was loaded with onions and fresh and doughy, it lacked flavor. Maybe it was the foodie gods cursing me from not ordering something more elaborate.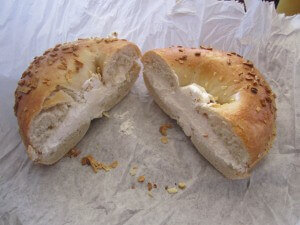 I saw it as a mixed blessing. Moe's expansive menu and hippie, laid-back vibe keeps it on the top of my list for breakfast spots in Boulder. My slight disappointment in my selection only ensures my return to try something more fancy (The Mount Sanitas- egg, cheese, spinach, tomato, add avocado, on an everything bagel, for example) on the menu!