by Andrew Woodman on April 17, 2011
4720 Table Mesa Drive
Boulder, Colorado 80305
Nepal Cuisine's website

Back during my return to Tandoori Grill, I was waiting in line to get their $10 lunch buffet when a fellow line waiter said to my roommate Will that "this is the best Indian buffet in Colorado," and that he drives down all the way from Loveland just to eat it.  Turns out he's wrong, and he does that drive frequently to end up just blocks away from a clearly better Indian (well, Himalayan) buffet: Nepal Cuisine.
Although I got the dinner buffet [$13.95 — $1 off for students], they also have a cheaper and slightly more limited lunch buffet [$9.95 — $1 off for students].  The buffet was filled with several veggie and meat options, which you can see in my plate below: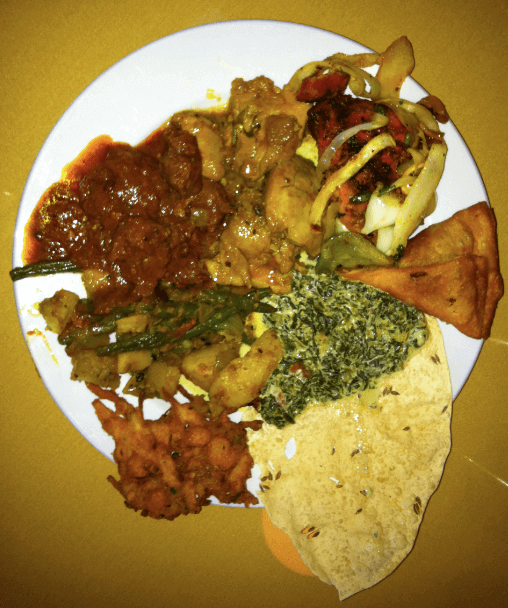 So I'm going to tell you about my the food I ate starting with the samosa at the 3 o'clock position of the plate and going clockwise.  Unintentionally this first half of my plate is all vegetarian, but I guess that's thanks to the natural order of the buffet.
I liked the samosa because it was just a classic, crunchy on the outside yet fluffy on the inside samosa… The inside was just really consistent, too, and I liked that opposed to the chunky kind of inside.
The big green pile of saag paneer really just made me feel like a Himalayan version of Popeye, except I wasn't eating it straight out of a can, and it's not as surprising since the creamy, subtly spiced spinach leaves are deliciously irresistable.
That really big chip looking thing sticking off the plate is just that, padad, which is basically a thin, crunchy lentil based chip.
Upon first sight the "vegetable pakora" just looked like a potato latka.  It was pretty much just that with an assortment of vegetables (I really couldn't put an ID to them) and spiced up Indian style.
The next one they had labeled as "potatoes & green beans" which I thought was super clever because it was actually just that, but guess what…? SPICED UP INDIAN STYLE! This one was one of my favorites, and the potatoes had that perfect yellow tint of spices soaked all the way through it, which made each bite so soft and flavorful.
_________
Now we're getting to the meats, which is what Popeye should have eaten to get stronger, since protein helps replenish muscle, not spinach.
_________
The lamb vindaloo was my favorite thing on that plate.  The meat was really tender and full of the curry sauce's flavor, which had a deep curry flavor with a slight tanginess that lead to it's spiciness.  It was a good series of events, except when I went to get more from the buffet, they were out.  I checked again and again, and they were still out.  And yes, this is the reason for the half-star deduction.
The chicken curry was a pretty good alternate choice for those trying to avoid  a slight mouth fire.  Just a classic creamy yellow curry with chicken that literally fell apart when you just touched it with a fork.
Next and last is the tandoori chicken, which was equally as moist as the rest of the meats, but slightly crisped up.  The spices were perfect, and the grilled onions that accompanied them really just put a fantastic finishing touch to my breath.
_________________________________
Because they are the same distance from my house, are roughly the same price for a lunch buffet, and because Nepal Cuisine even offers a dinner buffet, I will always choose Nepal Cuisine over Tandoori Grill.  It is those reasons, and the fact that I want to say to people in line, "this is the best Himalayan buffet in Colorado, I drive all the way from 4 blocks away to get it."
/^_^\