by Jessica on November 14, 2011
2685 Pearl St./Menu



I'm not sure if it is even possible to compare a place like Olive Garden to the other world-class, foodie establishments that clutter this gastronomic hot spot. Someone once told me that one can only compare things that are comparable. Yet in an effort to create a fair review, I will consider Olive Garden in a context in its own: an Italian chain restaurant.
We stumbled upon Olive Garden as a solution to our refusal to dress presentable enough to walk into one of Boulder's more upscale establishments. At Olive Garden, we were greeted with a friendly welcome upon walking in the door, were kindly received with no wait, and served ice water immediately upon sitting down.
I have always been a loyal fan of the Italian eatery for one reason: the unlimited cold, fresh and delicious salad (the option of unlimited soup or salad comes with each entree). I'm not sure if it is the dressing, the freshly grated romano cheese or the always-crisp veggies, but it is consistently to my pleasing. On this evening, it was exactly what I was craving, and I absolutely took advantage of the unlimited family-style refills.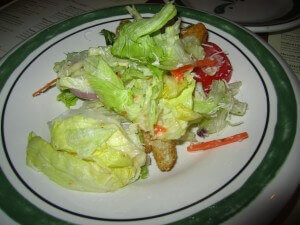 Also served bottomless and family-style are the warm, garlic breadsticks. Beware: highly addictive, especially when dipped in all the other rich sauces that this kitchen churns out. Our waiter was even so kind as to give us a little doggie bag of breadsticks to munch on us later that night :).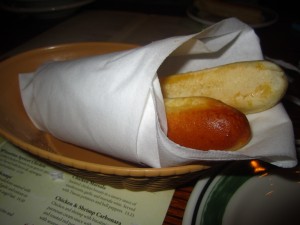 Though I was stuffed after about three plates of salad and three breadsticks, I had already ordered the five cheese ziti (most of which I boxed up for later). It is difficult to rave about a dish like this, one made with evidently bulk/processed ingredients, yet it was satisfying and extremely rich. On a cold day, everyone needs to fill their belly with something like this once in a while!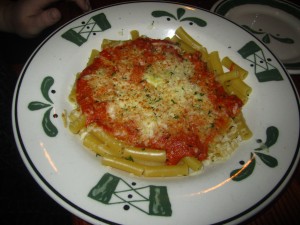 I also managed to snag a bite of my friend's eggplant parmesan, served with a side of spaghetti and marinara sauce. Its pretty tricky not to like fried food, especially eggplant parm, and it even was just as good as leftovers. The Olive Garden's was crispy and loaded with melted cheese on top, and balanced out by the side of pasta.
Perhaps it is a little inconsistent that I love Boulder's best, Frasca Food and Wine, and also care for the Olive Garden. Nevertheless, their unlimited soup, salad and breadsticks are simply unbeatable, and everyone deserves a day to splurge on a guilty pleasure (or at least that's what I tell myself).