by Jessica on October 30, 2011
1855 29th St./Menu




In a town stocked with countless farm-t0-table, locally owned establishments, it is hard to get myself to enter a chain restaurant. But when I'm craving something hearty and quick, Panera is my go-to spot. On this snowy day, I couldn't think of a better spot to study and snack.
During last Wednesday's snow storm, Panera was jam-packed with studying students and local Boulderites, both enjoying Panera's yummy soups, salads, sandwiches and pastries. We took advantage of the free internet and hung out there all day.
After again being plagued by indecisiveness, I settled on a "You Pick Two," Panera's attempt to help doubtful patrons like myself. I selected a caesar salad and garden vegetable pesto soup, served with a piece of their signature baguette on the side. Nothing could have been more satisfying on a cold day!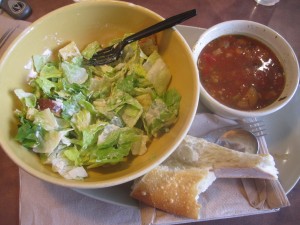 The freshness of ingredients is always apparent in Panera's consistent dishes. For the healthy-minded or comfort-seeking, their menu appeals to the masses. For me, the salad was crisp and soup was hearty and teeming with vegetables, and a perfect pair with the warm bread. After tasting how amazing the bread was, my food envy sunk in towards my neighbor munching on a bread bowl.
A few hours into studying, I needed a pick-me-up. Perhaps it is dangerous to study in a restaurant with countless options. The little girl in front of me ordered a treat so delicious looking that I decided to copy her with a hot chocolate and pumpkin muffie (muffin top). Yes, I am one of those people who gets overly excited by festive pumpkin treats during the fall. Creamy and rich hot chocolate with plenty of whipped cream, accompanied by a flavorful but light muffin: #perfection.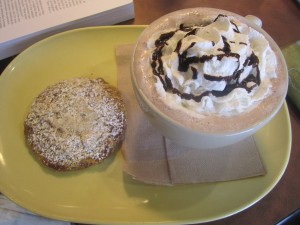 As far as chains go, it doesn't get much better than this. On a cold day, I dream of their soups with bread for dipping. But beware, fellow Boulderites will likely have the same idea, leading to lengthy lines, but met by impecable service.