by Jessica on September 11, 2011
1155 13th St.





I have been dying for a healthier option to appear on the Hill. So here it is, amongst the copious sandwich shops and fast-food restaurants, the health-nut's oasis: Pickled Lemon.
Mediterranean cuisine is absolutely one of my favorites, when it is done right. I have to admit, I was very skeptical of how good a Mediterranean joint on the Hill would be, especially one called the Pickled Lemon. But my guilt immediately sunk in the moment I dug in.
Basically, Pickled Lemon's menu offers the selection of falafel, hummus, chicken or beef in a plate, pita or salad, along with the option of tons of toppings. This time, I went with the falafel plate and went a little crazy on the toppings. I added Moroccan carrots, beets, feta cheese, tomato/onion/cucumber salad, chickpeas, hummus, and a side of pita bread. Possibly one of the best aspects of this restaurant is your choice of over a dozen free toppings, in addition to another dozen condiments and sauces which are do-it-yourself. So in addition, I went for the spicy harissa sauce and tzatziki sauce (which I mixed together), and topped it all with a pickle. Though I would recommend trying as many toppings as possible, I could not dream up a better combo than this. Better yet, I washed it all down with an ice cold Coors Light.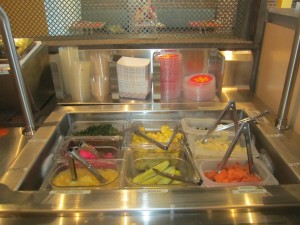 Though I have talked up the selection of sides and sauces, it is the falafel which really pulls through in this dish. I consider myself a true critic of falafel, and most fails the test due to being too mushy or too hard, too fried or not fried enough, or general lack of flavor. I was honestly shocked at how smoothly Pickled Lemon's falafel passed my test. It was crisp on the outside, smooth on the inside, and packed with spices and flavors. I love the flavor combo of the falafel paired with the hummus and sauces because it combines a mixture of consistencies and spiciness.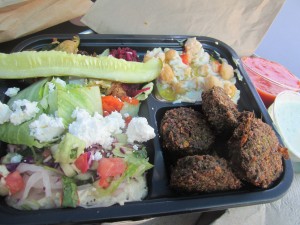 The Pickled Lemon is definitely my favorite spot on the Hill for a healthy yet satisfying meal any time of day. Between the veggie and meat options and the endless toppings, it would be hard to get sick of their menu no matter how often you dine there. My previous visit I tried the falafel pita (as opposed to the plate) which was just as good, if not better. I literally dream about this place and cannot wait to make a habit out of going more often, especially before the word gets out and it becomes insanely popular.