by Jessica on October 9, 2011
2525 Arapahoe Ave./Menu




The quest for the best pizza in Boulder continues. Having recently fallen in love with Pizzeria Locale last week, I decided to put my number one spot to the test.
Pizzeria da Lupo features daily happy hour specials that simply cannot be beat. We were lucky enough to catch the end of this early-bird special around 5:30, rounding my meal out to an easy ten bucks. Who could say no to that?
I decided to start off my meal with a salad. The only salad on the menu was the Tricolore salad, so the choice was easy for me, for once! The lettuce was crisp and cold, and came with a mixture of red cabbage, greens and romaine. For $3 (on happy hour), it was also a great size, though the photo did not do it justice (my friends ravished the plate before I could snap a pic).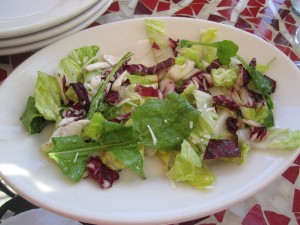 Now on to the pizza. In an effort to create a fair comparison between Boulder's best pizzerias, I selected the margherita, a standard and consistent pick for me. When it first arrived, I was more than impressed. It was doughy, but colorful at the same time, and looked far more substantial than that of Pizzeria Locale.
The pie came topped with tomato sauce, house-made mozzarella and basil, and I added oregano. After dusting the whole pie with a layer of red pepper flakes, I dug in fork first. It was scrumptious. The ingredients were fresh and flavorful, and crust soft, chewy and rich. The crust was far thicker than Pizzeria Locale, so that might be the winner for some, but still much thinner than the average local pizza joint.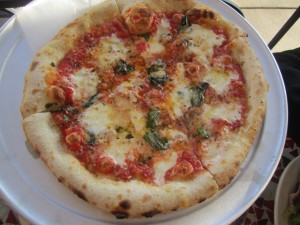 Pizzeria da Lupo is a great choice for an easy bite to eat, especially happy hour. Nevertheless, due to the ambiance and superior ingredients and crust, Pizzeria Locale still gets my vote for tossing up Boulder's best pies.