by Andrew Woodman on March 14, 2011
2525 Arapahoe Avenue
Boulder, Colorado 80302
Pizzeria da Lupo's menu/info

I have never been so wrong about a prejudgement as I was when Pizzeria da Lupo boasted their "$25,000 wood-fired oven" at the same time as their "unpretentious setting…" They truly pull off their completely down to earth atmosphere, even with that $$$$ oven.
I stumbled into this place after studying so hard that I forgot to eat lunch. Little did I know, this was to my advantage. They have a daily happy hour from 3-6PM, which definitely offers some of the best food deals in Boulder.
I got a Tricolore salad [$3 happy hour, $6 non-happy hour] which was pretty decently sized. If you speak any romantic language, the name gives it all away: three colors…of lettuce. One is light green iceberg, another is the darker green arugula, and because i'm not a lettuce connoisseur…the last one I'll call "that purple lettuce." This was all tossed in a tangy, slightly salted red wine vinaigrette. I really only ordered this to balance out my daily food pyramid, and the balance was good.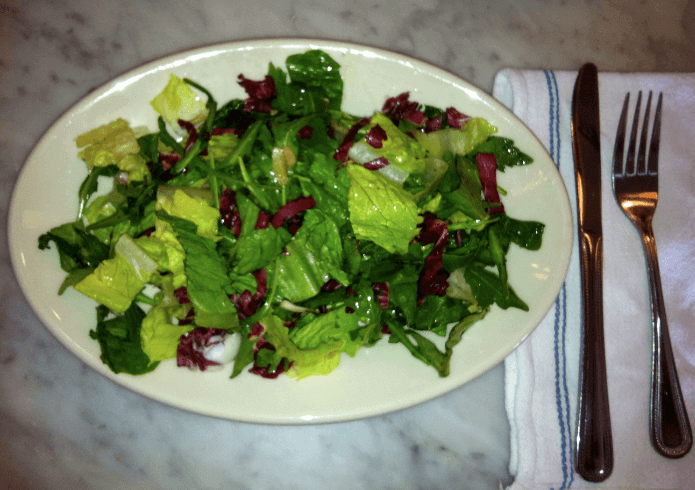 Although they don't offer pizza by the slice, my Margherita Pizza was only $6 [$10 during non]. SIX DOLLARS for a 12″ pizza. The deal is so mind boggling that it seriously limits my vocabulary to just one word: amazing. Not only that, but my pizza did fairly well on the "pizza test," where you test crispy versus soggy by holding just the crust to see how much the rest of the pizza dangles (less dangle = good; more dangle = bad). The wood-fired oven gave a slight crisp finish to contrast the heavier, yet perfectly cooked/melted toppings.  Also, it was the perfect temperature to eat right away (an uncommon feature) without burning the roof of my mouth.  This painful peel is what dentists professionally label a "pizza burn." Even though I usually eat my crust just because I'm not one to leave any half-eaten food on my plate, Pizzeria da Lupo's crust was truly, extraordinarily delicious. The perfect crust is a food of its own.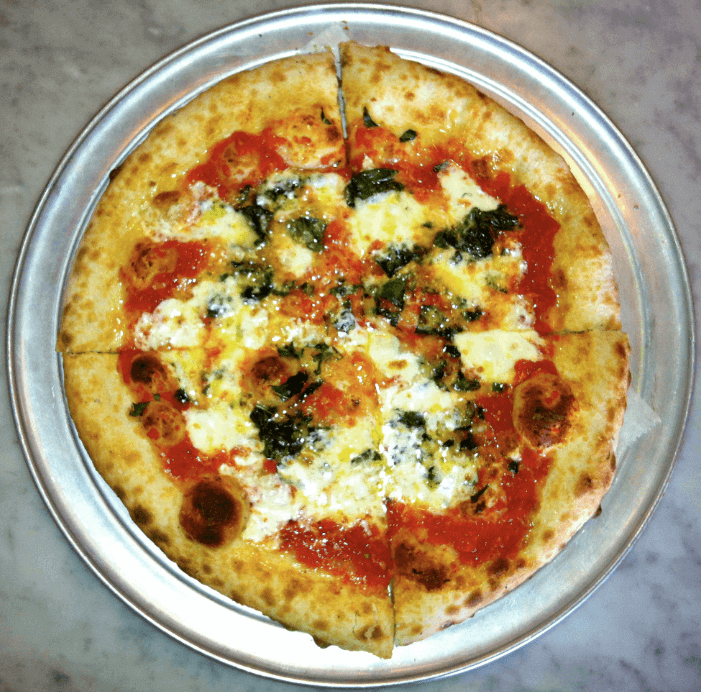 I've read a few reviews on Yelp about people complaining about burnt pizza, and while I can see how slight burning could take place, I can't imagine an awesome pizzeria like da Lupo serving anyone a completely charred pizza. Unless, that is, they requested it (some people like it that way). After all, a wood-fired pizza is kind of like a marshmallow, some people like them perfectly browned and some love the carcinogens that come along with the whole thing going up into flames and then quickly blowing it out so that it is just "perfectly" cooked. To each his own; so maybe if you are picky, or just aren't used to a wood-fired oven, just request exactly what you want to your server, and I'll guarantee they cooperate with you. They are some of the nicest, most personable people that I have ever talked to during a meal. It might have even been my best conversation all day, and that isn't me just basking in my own self pity of befriending restaurant waitstaff…we had quality conversation. Having said all of this, my pizza—without request—was cooked perfectly, and didn't have any char. Basically the service is so good that it seems like they can read minds.
Now that I'm done contesting all the people who are simply wrong on Yelp, I shall continue with da Lupo's awesomeness. Since it was available, and since I want to keep representing them, I obviously got my favorite beer: Dales Pale Ale by Oskar Blues [$3 happy hour, $4 non].  Da Lupo carries a few other beers on their refined list, including Shiner Bock and Moretti on tap.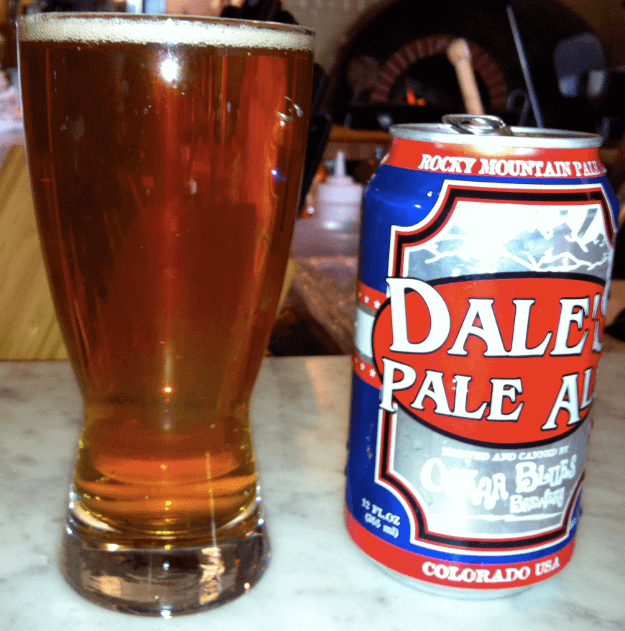 When I finished up my meal, I was pretty full. I told my waitress that after she started to tell me about dessert options, but I listened anyway. It's not that she coaxed me into getting it, but the pistachio ice cream [$3] sounded irresistible. It's made by a local company, Ice Cream Alchemy, and was the most pistachio-y pistachio ice cream that has ever melted on my tongue with some pistachios to chew on in the aftermath.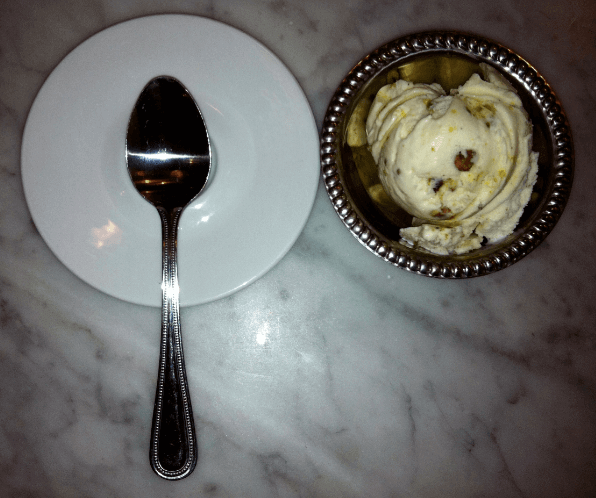 I have to say my experience was pretty delightful in every aspect of my meal, especially in service…so get over to the Pizzeria and get in da Lupo! After all, who doesn't like cheesy endings?!