by Jessica on October 3, 2011
1730 Pearl St./Menu





After recently traveling to Italy, the thought that no pizza I would ever try would be as good was simply depressing. Of course, I could not eliminate this crucial element of the college student's diet, so I settled for a ill-fated future filled with disappointment.
Then I discovered Pizzeria Locale.
Located on the East End of Pearl St., the restaurant occupies a less-traveled area of the street, blocks from the end of the pedestrian mall. Yet as soon as you spot this trendy spot, clad with an outdoor patio and marble bar, you will know it was worth the extra few steps.
Their concept is simple: pizza Napoli-style. In fact, they even sent the head chef to Italy for a year to study the art of pizza-making, and import the majority of their ingredients straight from Italy. You can surely tell the difference. No Americanized pizza, frill or fancy apps and sides.
Perhaps a reflection of their sister restaurant, award-winning and outstanding Frasca Food and Wine nextdoor, Pizzeria Locale's wine list is  impressive. In true college-kid fashion, we went for the cheapest bottle on the menu: the house red, Scarpetta. After ordering the bottle, we watched the bartender pour the vino out of a soda tap and into a glass bottle. Very cool. After we got over our obsession with the presentation, we all agreed that the wine was light, crisp, and well worth the $28 for a great bottle of wine.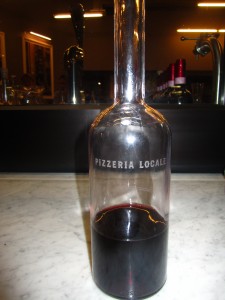 After hearing our neighbors place their order, we decided the Arancino, or fried mozzarella and saffron risotto balls, were a must. They came one per order, so we each requested one.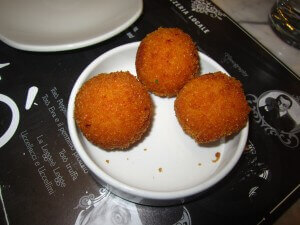 I almost sent the ball flying across the street (we were sitting outside) when I tried to slice this crispy creation. Given the soft consistency of its ingredients, I did not expect the crunchy, perfectly-fried outer layer that characterized the dish. The outside was fried to perfection, yet cheese oozed out the moment my knife left the scene. It was truly perfect and a great little snack to munch on while you wait.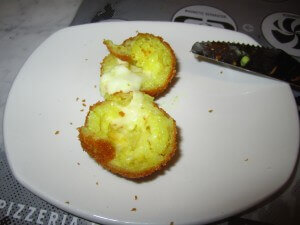 In a quest to learn more about this awesome concept of a restaurant, I grilled our poor waiter with questions. Perhaps the most interesting fact I learned was that each pizza stays in the oven for only sixty seconds. Though of course our pizza did not arrive within a minute, the service was speedy, which was not surprising.
In an effort to steer clear of the meat-piled pies, I stuck to the basics and selected the Margherita, with extra oregano. Traditionally in Italy, simple pizzas are the way to go. Maybe it was an excuse for not wanting to be adventurous, but as soon as my pizza arrived I had no doubts about my choice. Even my meat-eating friends preferred my selection.
The imported, high-quality ingredients is what took this pie from good to great. The crust was paper thin and extremely soft because it is cooked for such a short amount of time, yet crispy on the bottom. Normally, I do not like such a soft crust like this. Yet every single ingredient, including the imported san marzano tomatoes and mozzarella di bufala, was fresh and bursting with flavor. Here's the sleeper: the spicy chili oil. This is an addiction I developed while in Italy. It is basically olive oil infused with hot chilies that many Italians drizzle over their entire pie. I like to pretend I'm Italian and do the same.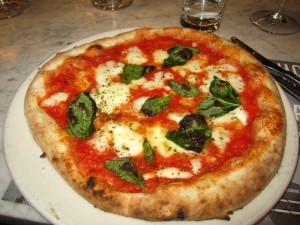 Even the picture of this pizza is making my mouth water and crave another visit to Pizzeria Locale. Though I have been hearing rumors of debates over which "upscale pizzeria" takes the cake, I would imagine this place is hard to beat. I will be sure to sample the other competitors soon, but will also absolutely be returning here ASAP, hopefully while the weather is still warm to enjoy the glorious patio.